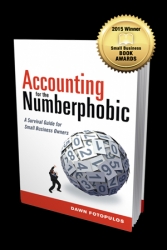 New York, NY, April 23, 2015 --(
PR.com
)-- Accounting for the Numberphobic is Named a Winner in the 2015 Small Business Book Awards
Accounting for the Numberphobic has been named a Winner in the 2015 Small Business Book Awards in the category of Economics.
The Small Business Book Awards celebrate the best business books that appeal to entrepreneurs, small business owners, CEOs, managers and their employees. The Awards also recognize key resources supporting business book authors and the publishing industry.
The Small Business Book Awards are more than just an honor -- they include a prestigious online event in which readers, fans, book lovers and the small business community can show their support for their favorites.
Says Anita Campbell, whose company Small Business Trends founded and produced the Awards, "For many entrepreneur-authors, writing a book is a labor of love. Often they get up early in the morning before the rest of the family awakes, and they devote their evenings, weekends, holidays and vacations to writing. Likewise, the companies and professionals who support authors are dedicated to their craft and to those they serve. The Winners deserve this recognition."
"The Small Business Book Awards are a way to acknowledge the books that small business owners and entrepreneurs appreciated over the past year," said Ivana Taylor, Book Editor at Small Business Trends, which produces the Awards.
The Winners were chosen by an expert panel of 24 judges from the small business community. The criteria for judging the Winners included: quality and quantity of the content conveyed; usefulness to small business owners and entrepreneurs; and freshness of the subject matter or how it was treated. The level of fan support for each nominee was also taken into account by the judges when choosing the Winners.
About the Small Business Book Awards
The 2014 Small Business Book Awards are now in their 7th year. More than just an honor, the Awards are a unique social online event that enables the small business community to nominate, show their support for, and vote on their favorite business books. The Awards combine recognition for a job well done, honors and prestige -- along with providing a high-profile opportunity for authors to engage with fans, network through social media, and increase publicity. The Small Business Book Awards are produced by Small Business Trends, an award-winning online publication, which along with its sister sites, serves over 6,000,000 small business owners, stakeholders and entrepreneurs annually. Small Business Trends for the past five years has published weekend reviews of small business books, amassing hundreds of independent reviews.
Contact:
dfotopulos@gmail.com
917-502-9729
Twitter: @dfotopulos
Twitter hashtag: #BizBookAwards