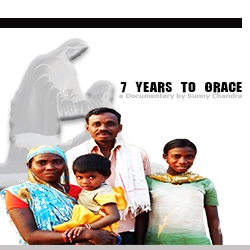 Mumbai, India, April 25, 2015 --(
PR.com
)-- Sunny Chandra, who hails from Champa, a village is central India, made 7 Years To Grace after graduating from NYFA. The documentary was shot on a zero budget with minimalist crew of friends and relatives who helped the budding filmmaker make his first venture into the world of documentaries. Having shot short films before, he found the task quite challenging yet enlightening.
7 Years To Grace focuses on Sonamati's 7 year ordeal to reunite with her husband and daughter, after being abandoned by her family and society for having contracted Hansen's disease (Leprosy). The film was shot completely in Chhattisgarh.
Sunny has since moved into feature films, he founded his Production Company, Dimension 10 Media, under which he is developing his first feature film. The documentary spawned tremendous interest in his father, Rajesh Chandra, a doctor and an author, who wrote the story-concept of the documentary, is currently working on expanding the same into a novel, his 2nd.
For more information about the documentary visit:
www.imdb.com/title/tt3781514/
And
sub.festival-cannes.fr/SfcCatalogue/MovieDetail/20271c21-88ba-4bf0-980e-011421695eee
To Find out more about Sunny Chandra, Visit:
http://www.sunnychandraa.com
Contact:
email: contact@sunnychandraa.com
Sunny Chandra
Dimension 10 Media
4th Floor, Champa Hospital, Near Bhalerai Stadium
Champa, Chhattisgarh, 495671
ph: +919685902395