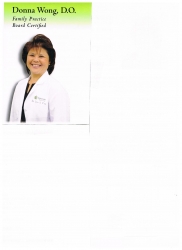 Rancho Palos Verdes, CA, May 10, 2015 --(
PR.com
)-- Local Rancho Palos Verde resident and Downey, CA doctor to Walk 39.3 Breast Cancer-Crushing Miles Set to Participate in Weekend-Long AVON 39 in Santa Barbara, CA on Sept 12-13th.
Donna L. Wong, D.O., resident of Rancho Palos Verdes, and Family Physician of Downey, CA will join thousands of women and men in the upcoming AVON 39 The Walk to End Breast Cancer in Santa Barbara, CA, raising funds to enable access to mammograms and medicine, fuel research, and save lives. Donna will participate in the 39.3 mile walk in two day, assisted by members of a volunteer AVON39 crew, providing critical support throughout the weekend.
Donna (aka DLW), was inspired to take part in AVON 39 because of her patients past, and present who fought/and continue to fight the fight (Kathy-Jo H.-62, Erika J.-42, and Linda S.-a repeat fighter). Rather than sit by and let things happen that are beyond her control, DLW decided to raise money for those wiser than her in research to find a cure.
"AVON 39 encourages walkers to prove their willpower by the miles they walk, and validate their impact through the dollars they raise," said Kevin Honeycutt, Executive Director, Avon Foundation for Women. "This challenge truly reflects the spirit and attitude of our dedicated participants and our goal to end breast cancer."
DLW has set a fundraising goal of $1800 at least, if not more. To support this fundraising campaign, donations can be sent to www.avonwalk.org/goto/donnawong. Funds raised are awarded by the Avon Foundation for Women, a 501(c)(3) public charity, to help make sure anyone facing a breast cancer diagnosis gets the care they need regardless of their ability to pay, and to help fund breast cancer research. For a complete list of Avon Foundation for Women funding, visit www.avonfoundation.org.
About AVON 39 The Walk to End Breast Cancer:
AVON 39 Santa Barbara, is one of seven weekend events taking place in 2015. The complete 2015 AVON 39 The Walk to End Breast Cancer schedule includes: Houston (April 25-26), Washington, D.C. (May 2-3), Boston (May 16-17), Chicago (June 6-7), San Francisco (July 11-12), Santa Barbara, Calif. (September 12-13), and New York City, (October 17-18).
The AVON 39 series, the Avon Foundation's largest fund-raising event, comprises seven non-competitive weekend fund-raising walks for all fitness levels that require a significant commitment from participants. Each walker is required to raise at least $1,800 in donations and to prepare physically for the event, which offers the option of walking a marathon (26.2 miles), or a marathon and a half (39.3 miles) over a weekend. Among the nearly 15,000 participants in 2014 were men and women of all ages, from nearly every state and several countries, including more than 2,000 breast cancer survivors. AVON 39'ers were united in solidarity by their goal to take breast cancer down.
For more information or to register for an AVON 39 The Walk to End Breast Cancer, visit www.avon39.org or call 1-888-540-WALK.
"I'm going to do it because I say I can!"- DLW
Media Contacts: Gloria Quinn Kristen Clonan
Kaplow PR Avon Foundation for Women
646-747-3582 (office) 212-282-6797 (office)
gquinn@kaplowpr.com
Kristen.Clonan@avonfoundation.org
Event information: wwwavon39.org or call 1-888-540-WALK