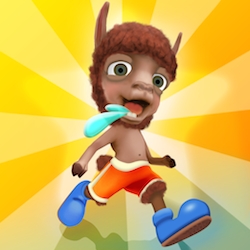 Sarasota, FL, May 01, 2015 --(
PR.com
)-- Bitbros Games is pleased to announce Spit 'N' Run, its latest mobile game now available for free in the Apple App Store, Google Play, and the Amazon Appstore.
Say Hello to Loogie the Llama
Loogie is a mischievous llama who gets what it wants – by spitting! You and Loogie will be faced with plenty of fun challenges in this high-quality platform game. Help this hero in his adventures by running, jumping, pushing, pulling, tilting, fighting and obviously…spitting!
You'll embark on an unprecedented journey through five unique and challenging worlds. Don't stop playing until everyone is soaked in a gooey, gooey spit! Better have a towel ready!
Features:
*Classic 2D platformer gameplay with gorgeous 3D environments
*Play in 21 levels across 5 unique worlds
*Go to battle against monsters and powerful bosses
*Dress Loogie in your favorite way
*Amazing graphics and sound -- "Splat!"
*Plays great on mobiles and tablets
*Fun for all ages
Gameplay:
*Instead of shooting -- you spit at your enemies
*Loogie's saliva is limited so you better watch out
*Spit to activate buttons: aim and predict the trajectory to hit targets
*Solve further puzzles by moving and placing items
"Loogie introduces a funny dimension into the platformer genre by its unique spitting," said Raik Bittner, co-creator of Spit 'N' Run. "We have been working hard to optimize the graphics, sound and controls of the overall game and particularly of the spitting feature. Nonetheless, we had a lot of fun developing and tweaking Spit 'N' Run over and over."
To view the trailer for Spit 'N' Run click here
Trailer
.
About BitBros
Brothers and game developers Raik and Sven have been making games since 1994. Their first commercial success on the C64, Saliva Kid, could be seen as an ancestor of Spit 'N' Run. In 2001, the brothers released the critically-acclaimed space shooter Hornado. Raik started working on iOS in 2009 and focused on aquarium apps. He created some top titles like MyReef 3D and Fish Farm. Spit 'N' Run – The Adventures of Loogie the Llama was created on the Unity platform and will be available on iOS and Android on May 1st, 2015.