Employee Engagement Declines to Lowest Point in Eight Years
After three years of improvement, employee engagement took a dive, hitting its lowest point in eight years.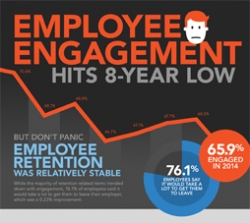 Omaha, NE, May 01, 2015 --(
PR.com
)-- Quantum Workplace, an HR technology company known for its Best Places to Work program, found employee engagement has dipped to its lowest point in eight years, according to data from its fifth annual Employee Engagement Trends Report. The report analyzed data from more than 444,000 employees at nearly 5,500 organizations.
"The data tells a clear story," said Greg Harris, president and CEO of Quantum Workplace. "Employee sentiment is moving to the middle. More employees are on the fence. They're generally favorable—they aren't necessarily trying to leave—but something is holding them back from truly engaging."
The report also found that while engagement declined, employee retention was relatively stable. The majority of retention-related items trended down with engagement. However, 76.1 percent of employees said it would take a lot to get them to leave their current position, which is a .23 percent improvement from the previous year, when employees were more engaged.
"While the drop in engagement is disconcerting, employers should be encouraged that the three most important drivers of employee engagement are identical to the previous year," Harris said. "All three involve the commitment and strategic communication of senior leaders. That should give us a good hint about how employers should respond to these findings."
Other highlights from the report include:
· Men had higher levels of engagement than women. Almost 71 percent of men were engaged, compared to fewer than 68 percent of women.
· Baby boomers (employees 66 years old and older) were the most engaged age group, followed by the youngest millennials (25 years old and younger).
· Employee engagement was lowest in the Midwest. In fact, the Midwest (as defined by the Census Bureau's regional designations) was nearly 10 percentage points lower in engagement than the South, which had the highest level of engagement.
· The top three most-engaged industries were: Management of enterprises, real estate, and construction. The least engaged industries were: Public administration, manufacturing, and nonprofit.
· More than 20 percent of survey takers responded with uncertainty to nine out of 37 survey items. This represents a decrease in confidence compared to the previous year when employees responded with this much uncertainty to only six survey items.
· Executives declined in favorability on only 22 percent of the survey items, while hourly employees declined on 70 percent of the survey items. Executives were more favorable than hourly employees on every survey item.
To view the complete report, visit
www.quantumworkplace.com/2015trends
.
About the Survey
The 2015 Employee Engagement Trends Report analyzed data collected through the Best Places to Work program over the past eight years. The 2014 data was collected from more than 440,000 employees from nearly 5,500 organizations who took the survey between January 1, 2014 and December 31, 2014.
About Quantum Workplace
Quantum Workplace is an HR technology company that serves more than 5,500 organizations annually through employee engagement surveys, action-planning tools, exit surveys, peer-to-peer recognition, performance evaluations, goal tracking, and leadership assessment. For more information, visit www.quantumworkplace.com.
Contact
Quantum Workplace
Jamee Kugler
888-415-8302
www.quantumworkplace.com

Contact