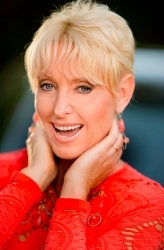 Miami, FL, May 01, 2015 --(
PR.com
)-- Sultry International actress and singer Nanci Guerrero has released her latest single, "No Te Voy a Perder" (I will not lose you). It has become the latest hit sensation for this sexy artist in both the South American and USA markets.
Nanci Guerrero, born in Argentina, is no stranger to the public eye. She has won several beauty contests throughout her life. She also dabbled as a model in various commercial and television ads. In 1997, Nanci Guerrero recorded her first album in the USA, under the production of Bebu Silvetti. With this album, Nanci toured Puerto Rico, Costa Rica, Venezuela, Colombia, and Ecuador, where Nanci starred in the TV show "Fantasias En La Playa". Then in 1999, Nanci joined the cast of the most successful Spanish-speaking program, Univision's Sabado Gigante and for 7 years she played several characters that became popular, such as "Dr. Cosabella." For this character, Nanci received an award from the hand the host of Sabado Gigante," "Don Francisco" himself.
Today, Nanci has been working on the biggest musical project of her career. Alongside her husband, Eduardo Pérez Guerrero and master producer, Rudy Perez, they have produced an album anthology with Rafael Basurto Lara's, the voice behind the most famous trio of the world, "Los Panchos", in a tribute to the extraordinary, Eydie Gorme.
Nanci has recorded a song composed by music genius, Rudy Perez, titled "No Te Voy a Perder" (I will not lose you), which is the main track from her ballad album with "Las Guerreras." She has also recorded a duet with the beloved singer, Leo Dan to one of his greatest hits, entitled "Como Te Extrano" (How I Miss You), with a bachata rhythm and great public acceptance throughout Latin America and the United States.
To preview her latest hit song "No Te Voy a Perder", please visit www.nanciguerrero.com