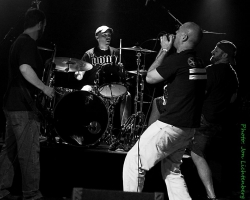 Akron, OH, May 10, 2015 --(
PR.com
)-- In the wake of the confirmed departure of vocalist Ben Bivens, Ohio rock veterans Burn Blue Sky have announced the addition of new singer, Jeff Fahl (Foul Spirits/Rue) to their official lineup. They are currently in the studio with Jeff, working on the follow up to 2010s "Celebrate The Decline." All of the music for the new EP has been recorded and vocals are being worked out on stage this summer during new show dates for the band.
The bands drummer and founding member Beau McGranahan comments:
"We have known Jeff Fahl, and have been close friends for the better part of 20 years. Jeff has collaborated guest vocals on past BBS albums and is pretty comfortable in our camp. He is a talented and well known character in the Northeast Ohio music scene, and we are excited to have the opportunity to work with him on a full release."
Additionally, Burn Blue Sky has recently updated their official website. All 2015 show dates for the band and social media links, along with current BBS news and merchandise can be found at the newly revamped
www.burnbluesky.net
All of the band's music is sold in the iTunes Store and CdBaby.com
Burn Blue Sky is a heavy rock band from Akron Ohio. Founded in 2000, they have blended Heavy Metal and Rock, for a unique and diverse sound, that consistently evolves from one release to the next. They have opened for such acts as: Crowbar, Red Fang, Helmet, Dax Riggs, and Kylesa. Burn Blue Sky have built a loyal following, by consistently delivering the loud and heavy music that characterizes much of the Rust Belt music scene in Ohio and beyond.