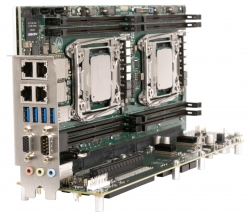 Atlanta, GA, May 14, 2015 --(
PR.com
)-- Trenton Systems' new
HEP8225 HDEC Series system host board
builds upon the basic goodness of PICMG® 1.3 SHB's faster system MTTRs, expanded support for industry standard PCI Express plug-in cards, and built-in system longevity. The HEP8225 accomplishes this by increasing the base number of PCIe lanes between an SHB and a backplane from 20 lanes to 80 lanes. This HDEC Series 300% PCIe expansion over the previous PICMG 1.3 architecture significantly increases overall system bandwidth while lowering data latencies.
The HEP8225 supports two long-life Intel® Xeon® E5-2600 v3 processors. The 22nm Intel® Micro-Architecture design (Haswell-EP) doubles the number of execution threads and processing capability compared to previous Intel® processors. Trenton's HEP8225 HDEC Series system host board also features:
Dual 10GbE LAN Ports
Dual 1GbE LAN Ports
8, DDR4-2133 Standard Memory DIMM Sockets
128GB System Memory Expandable up to 512GB
6, USB 3.0 Interfaces
4, USB 2.0 Interfaces
8, SATA/600 Interfaces
Built-in Video, Audio and Serial
Advanced Diagnostics Plus More.
Trenton's HEP8225 HDEC Series system host board maximizes system ROI with long-life, embedded components which drive an extended SBC product availability of seven years or more. The HEP8225 design includes a standard BIOS version that is maintained under strict revision control. Trenton also builds-in BIOS flexibility by offering various BIOS modifications that may be needed to meet unique system requirements while still maintaining strict revision control for all custom BIOS variations. The HEP8225 is designed, manufactured and supported by Trenton Systems at our U.S. facilities and is covered by their exclusive five-year factory warranty.