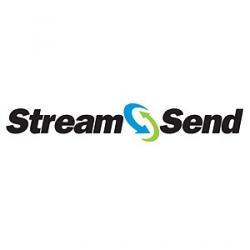 Sacramento, CA, November 27, 2007 --(
PR.com
)-- StreamSend, a leading email marketing solutions firm headquartered in the United States and serving clients globally, today announced streamlined service access for its United Kingdom clients. The company simultaneously revealed its new regional website, the
StreamSend Email Marketing Service
, along with a new toll-free telephone number and United Kingdom mailing address.
StreamSend offers intuitive online tools that help email marketers better manage customer and prospect lists and campaigns, increase delivery rates, assess results and perform A/B testing. The company's award-winning solutions suite facilitates list sign-up, list import, mail merge and personalization, automated subscription confirmation, HTML template design and formatting, live tracking and release scheduling. Advanced features are also available, supporting multiple user accounts, date-based triggered message delivery, API integration and more.
"We're pleased to announce our new simplified access and web interface for U.K. clients," states Dan Forootan, CEO of EZ Publishing, creator of StreamSend. "Developed by marketers for marketers, our solutions suite includes enterprise-level features at low, affordable prices. The weak United States currency offers a great opportunity for United Kingdom marketers to profit from using the StreamSend email marketing system."
As part of its standard services, each account includes a private IP address for optimal deliverability. Clients registering for the Habeas Safelist via their StreamSend account further gain an average 20 percent increase in overall inbox delivery. StreamSend serves a range of clientele, from sole proprietors to fortune 500 corporations.
About StreamSend™. StreamSend offers a number of attractive standard pricing plans beginning as low as $5.95 per month. High-volume mailings cost as little as $.0004 per e-mail with a monthly plan. StreamSend also has a strong
Email Marketing Reseller
program.
Contacts:
Neil Anuskiewicz, Marketing Manager
U.S. Toll-free: 877-439-4078, ext. 819
U.K. Toll-free: +44 (0)808 234 1435, ext 819
International: 916-326-5407, ext. 819
###
The
StreamSend Email Marketing
Service offers a number of attractive standard pricing plans for marketers. High-volume mailings cost as little as $.0004 per e-mail with a monthly plan.
StreamSend is the most comprehensive and cost-effective permission-based e-mail marketing suite available. The company is proud to provide this powerful email marketing suite to marketers, entrepreneurs and online retailers around the world. StreamSend also has a strong Email Marketing Reseller program.
It all started in 1998, when Dan Forootan founded EZ Publishing, a web hosting and design company. The company quickly expanded, as word spread of the company's comprehensive services, wide-ranging infrastructure, exceptional customer support and honest approach.
But web hosting and design was just the first step. Dan's clients wanted more. Many EZ Publishing customers asked for an e-mail marketing solution to help build sales and strengthen customer retention.
In response, EZ Publishing developed the StreamSend e-mail marketing suite. Because the company had an existing technological infrastructure in place, they were able to offer this powerful new email marketing service at extremely affordable prices. The response to StreamSend has been extraordinary, and it has since become EZ Publishing's flagship product.