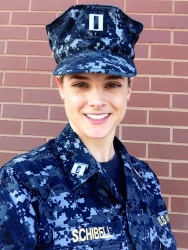 Groton, CT, May 26, 2015 --(
PR.com
)-- As American Ninja Warrior kicks off its seventh season, U.S. Navy Lieutenant Natalie Schibell prepares for her debut on "the world's most difficult obstacle course."
A graduate of The George Washington University, The Culinary Institute of America, and New York Medical College, LT Schibell currently serves as the Environmental Health Officer at Subase New London in Groton, CT. Due to increasing popularity of the show, American Ninja Warrior received a record 50,000+ applications this season. The application required submission of a 3-4 minute video and completion of a lengthy questionnaire. She applied in January, but did not receive notification of her selection until April 30th.
Schibell, and roughly 800 contestants compete in qualifying rounds in six cities across the country. The show featured over 100 obstacles since its inception. However, she and her fellow ninja warrior contestants have no prior knowledge of which obstacles they will face this season; including 23 new obstacles that vary by region. Schibell structures her training to prepare for anything.
"As a former track runner and competitive swimmer, I rely heavily on my speed and upper body strength to tackle each obstacle successfully," she said. "I placed the most emphasis on developing balance and grip strength, necessities to conquer the course."
The show holds city qualifying and city finals rounds in Venice Beach, Houston, Kansas City, Universal Orlando, and Pittsburgh. The producers aim for only 20 percent of the contestants to advance to the national final rounds held in Las Vegas.
This season, the famed series also teamed up with the non-profit military veteran organization, Got Your 6, to shoot two special episodes featuring active duty and retired military personnel at the USS Iowa (BB-61). A member of the all-military cast, LT Schibell puts her skills to the test on June 5th at the San Pedro Regionals in an effort to advance to Las Vegas for a chance to win the $1,000,000 grand prize. No American in six seasons finished the Las Vegas course to claim the prize, but that does not deter the West Long Branch, NJ native from embracing the challenge.
"I anxiously awaited the call for months and stepped up my training in the hope of attaining this incredible opportunity," Schibell said. "I am absolutely thrilled to compete among such an impressive group of athletes and aspire to motivate my Sailors and Shipmates in support the Navy's culture of fitness."
American Ninja Warrior Season 7 premiers on May 25 at 6-8pm on NBC. Repeats will air the following day on the Esquire Network. The San Pedro Regionals are expected to air on June 29. Follow @NatalieSchibell on Twitter and tweet your support for #NavyNat!