New Search Engine Confirms That Milliseconds Matter
ShipGooder.com uses speed and simplicity to attract a loyal following.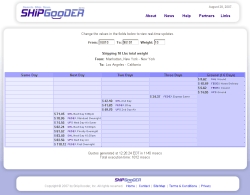 Toronto, Canada, November 28, 2007 --(
PR.com
)-- In the highly competitive market for web search applications, faster and simpler is better. ShipGooder.com is confident that the company's new courier search technology will do nothing short of revolutionizing the way that packages are shipped.
ShipGooder.com is a search engine that allows visitors to quickly search FedEx, UPS, DHL and the U.S. Postal service for the best shipping rates. ShipGooder's service is provided free of charge, and does not require visitors to create an account or register any personal information. Additionally, the designers of ShipGooder chose not to clutter its pages with advertising, which can be distracting and confusing to visitors.
"We developed ShipGooder.com after we identified that the courier search market was limited with sites that were slow and difficult to use," said Franc Vodopivec, President of ShipGooder, Inc. "When you compare ShipGooder.com, which provides results in as little as 15 milliseconds, to other sites that can take up to a minute to respond, it's very apparent that milliseconds matter."
"Previous sites attempted to provide a similar search service," said Nancy Chafee, Vice President of ShipGooder, Inc. "Most of them require that visitors pay a fee or navigate through numerous pages and forms to get to an end result. All of them are far slower than ShipGooder.com, which is now firmly established as the fastest and easiest courier search site on the Internet."
A mere three months after launching ShipGooder.com, the company's Rapid Rate Search (RRS) technology has propelled ShipGooder to the forefront as the market leader in speed and ease of use. RRS combines an AJAX-based front-end with powerful search servers to provide visitors with search results that are virtually instantaneous.
The company's strategy has been highly successful, not only from the standpoint of attracting thousands of loyal visitors, but by also attracting local, regional and national couriers who are moving quickly to have their rates displayed on ShipGooder.com.
###
Contact
ShipGooder, Inc.
Nancy Chafee
(416) 930-3043
shipgooder.com

Contact
Multimedia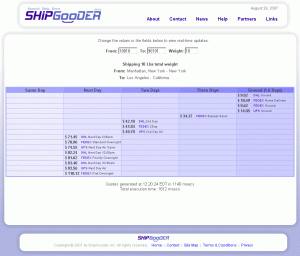 A screen capture of the instant courier rates displayed on ShipGooder.com, the fastest shipping rate search site on the Internet.