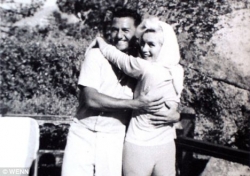 Rancho Mirage, CA, May 29, 2015 --(
PR.com
)-- U.S. singer, composer and jazz pianist Buddy Greco has announced he is selling on eBay his memorabilia collection, which includes the last photos taken of Marilyn Monroe before her death, They were snapped at the Cal Neva Lodge just five days before her death in 1962, according to
Titanium Media Group
. "I've been collecting memorabilia throughout my career," Greco, 87, said while relaxing in his home near Las Vegas, NV.
"I've enjoyed my collection and these rare photos for over 40 years, taken by my manager and my then-wife during that last weekend in Cal Neva, Nev. Imagine my surprise and dismay when I heard the news about my dear friend Marilyn a few short days later. In one of the photos, celebrity hairstylist Jay Sebring is seen cutting Greco's hair at the lodge. Sebring was killed by the Manson Family in the Sharon Tate slayings in 1969.
"I'm working on a book about my adventures in the music business," said Greco. "I have many stories to tell as one of the last surviving members of the Rat Pack era."
Many other rare items, including original photos, letters, gifts and signed rarities from The Beatles, Fred Astaire, Louis Armstrong and Frank Sinatra will also be hitting the auction block.
"I'm in great health," Greco said. "But it's definitely time to simplify my life and give a new home to this wonderful collection. I can't think of a better way to share it with the world."
You can purchase or bid on these very rare and historic photographs by visiting the listing on eBay at:
http://www.ebay.com/itm/201359855520?ssPageName=STRK:MESELX:IT&_trksid=p3984.m1558.l2649