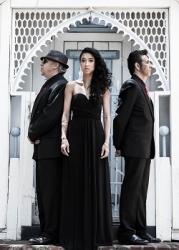 Los Angeles, CA, May 30, 2015 --(
PR.com
)-- Members of the group have played with a broad array of icons of classic and contemporary music, and come from wildly disparate beliefs systems, but they all agree on the sheer magnetism of the gospel idiom. Skyrocket Holdings will release the newest album, Eternity, out this fall, they welcome Whitney Houston musical director Michael Baker into the collaborative family. The resulting album is an engaging and irresistible set of songs delivered with an emphasis on gospel's expressive power that eschews religious proselytizing in favor of spreading simple, secular musical joy.
Eternity boasts Little Faith's strongest collection of traditional spiritual standards and original compositions in its three-album catalog. Standouts include the invigorating "All The People Shout," the inspiring "Carry Me," "Wade In The Water," and the title track. Little Faith will be issuing videos for "All The People Shout" and "Carry Me." The earthy, R&B-tinged "Wade In The Water" is a traditional song about freedom and civil disobedience.
Longtime Whitney Houston musical director Michael Baker produced Eternity and contributed the album's moving title track, a song he'd written for Houston shortly before her tragic demise. Baker was a Little Faith fan that contacted the band and offered his services.
Little Faith features musicians who are confirmed atheists, devout Christians, and New Age seekers. Jack Maeby, the brilliant, veteran keyboardist who spent decades playing with such revered artists as Etta James, The Chambers Brothers, Solomon Burke and Darlene Love, first conceived the group in 2010. The voice of Little Faith is the boundlessly talented singer Nadia Christine Duggin. Nadia has performed with Robin Thicke, Miley Cyrus, Hilary Duff, Natalie Cole, Patti Labelle, Avril Lavigne, Taylor Hicks and the popular LA band West Indian Girl. Rounding out the group is Ray Wolffe, on vocals and guitar, who LA Weekly has called "the best unsigned singer out there"; in demand session singer and artist John Michael Knowles (City of Faith and Billy Tulsa); session drummer Jesper Kristensen, known as the "funky hound"; and award-winning songwriter and session mainstay Craig Ferguson, on guitar and pedal steel guitar.
Little Faith has previously garnered strong radio play on independent and college radio outlets across the country and in Europe, and reached #15 on the FAR Roots radio charts. The group has developed a large live band profile both in worship and secular settings throughout Southern California. Recently, Little Faith was named to the official concert artists' roster for the LA County Arts Commission. Together and individually, members have performed for services with the Gospel Music Workshop of America, and at houses of worship such as Belmont Baptist Church in Watts, Agape International Spiritual Center, Christian Assembly, Hope Lutheran, St. Matthews Lutheran and First Church of Christ in Los Angeles. Borrowing from New Testament scripture, the idea that "Faith the size of a mustard seed can move a mountain," they strive to include listeners from all faiths, nationalities and walks of life.
For more information on Little Faith, please visit their website -
www.littlefaithmusic.com
.
For media inquiries, please contact Skyrocket Entertainment at
info@skyrocketent.com