Pam Older Designs Opens in Downtown Newburyport Handcrafted Jewelry, Bedding and More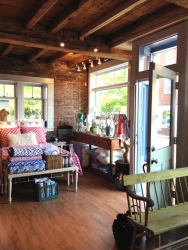 Newburyport, MA, May 31, 2015 --(
PR.com
)-- Pam Older Designs original handcrafted jewelry has opened in the heart of Newburyport, MA. Pam's passions are on display in her historic and elegant brick shop located at 42 Merrimac Street.
Pam's handcrafted jewelry has been featured in Oprah magazine, and, since she started her business in 2003, has sold her beautiful necklaces, bracelets, earrings and rings to shops and galleries around the country. Her luscious gemstone jewelry has is sold to the Sundance Catalog.
Before she became a professional jewelry designer, Pam was an executive with the New Yorker Magazine, a far cry from her artistic leanings. Her favorite part of the job was color correcting the art proofs for printing and then overseeing the color reproduction on press. People told her she had a wonderful "eye," unaware that she had a BFA in painting. (She had also apprenticed as a silversmith in college.)
So, 12 years ago, Pam decided that her metalworking experience, love of good design, and business background were perfect for launching Pam Older Designs. In her Newburyport store she sells things she loves—like gorgeous Roberta Roller Rabbit bedding and accessories. The main focus, though, is her delicate, eye-catching jewels.
You can peruse Pam's jewelry online at www.pamolderdesigns.com. Her shop is open Tuesday-Sunday 10 a.m. -5 p.m. or by appointment.
Contact:
Pamela Older
914-450-6251 or email pamolder@mac.com
Contact
Pam Older Designs
Pam Older
914-450-6251
www/pamolderdesigns.com
Pamela Older
914-450-6251
pamolder@mac.com

Contact