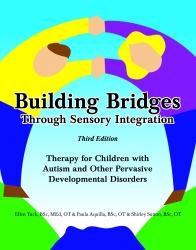 Arlington, TX, June 04, 2015 --(
PR.com
)-- Autism and Sensory Processing Disorder are on the rise. But what are parents to do during the long summer with their kids in need of help? According to the latest data from The Centers of Disease Control and Prevention, Autism Spectrum Disorder (ASD) continues to rise. 1 in 68 children were identified as being on the spectrum. The numbers for kids with SPD (Sensory Processing Disorder) are even higher. In a study of children born between July 1995 and September 1997 in the New Haven, CT area 16% of 7 to 11 year olds had symptoms of SPD-SOR (Ben-Sasson et al., 2009). That is the same as 1 in 6 children. An earlier study in younger children (Ahn et al., 2004) found a prevalence of 5%, which is 1 in 20 children.
What are parents to do to continue to help their children at home all summer? Good news - help has arrived just in time! The Third Edition of the longstanding and successful resource book, Building Bridges Through Sensory Integration, written by three knowledgeable and practiced Occupational Therapists; Ellen Yack, BSc, Med, OT & Paula Aquilla, BSc, OT & Shirley Sutton, BSc, OT, is available June 9th.
This revised version provides theory and strategies on sensory integration along with ready-to-use activities, questionnaires and offers suggestions for daily sensory difficulties. It is a practical resource for anyone that desires or needs a better understanding of Autism Spectrum Disorder (ASD), Occupational Therapy, Sensory Integration, the Sensory Systems, and Identifying Problems with Sensory Integration. This useful go-to book is an ideal tool for those working with young children yet easily adaptable for older children and even adults.
The new edition comes with 100 extra pages and a dedicated website of free downloadable forms and exercises for easy printing!
Building Bridges provides creative techniques and useful tips while offering innovative strategies and practical advice for dealing with everyday challenges, including managing behaviors, improving muscle tone, developing social skills, selecting diets, making your own easy low-cost equipment ideas and resources helpful for those with ASD. Part one explains the role of the occupational therapists in treatment and examines sensory integration theories. Part two offers methods of identifying sensory problems in children along with numerous strategies and activities.
Topics include:
● Identifying Problems with Sensory Integration
● Strategies for Challenging Behaviors Ideas for Self Care Skills
● Adapting Home, School, and Child Care Settings
● Activity Suggestions
● Equipment and Resources
Publisher, Sensory World, is pleased to announce the New Release of Building Bridges Through Sensory Integration Third Edition which is available for purchase from all fine booksellers, including: Sensory World; Amazon; and Barnes and Noble.