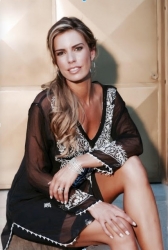 Miami, FL, June 13, 2015 --(
PR.com
)-- elements group (leisure growth holdings, LLC) has announced the acquisition of the American Spa Company, as well as a new Global Executive Director of Spa. American Spa will serve as the the holding company for the group's spa ventures, including thinspa®, The Spa at Green St™, elements living™ spa, a private label spa program, and related product lines.
American Spa has acquired the management contracts for various resort-based as well as licensed spa operations within the US and internationally, and offers
The company has announced plans for a new education and certification division, which will serve as a massage and therapist accreditation and licensing venue, and massage school.
De Abreu was recruited from Brazil's Rio de Janeiro, where she has developed a leading worldwide reputation as a celebrated spa expert, developer, educator, and consultant with over 20 years of industry leadership and over 18 prestigious resort-based spas under management.
Renata de Abreu: "I am thrilled to be leading the American Spa Company, and on the launch of thinspa. This project is really the culmination of 20 years of passion, knowledge, and a true love of healthy living. Working with elements brands, we are developing some of the most unique spa and lifestyle programs ever seen, and bringing great products to market - it's very exciting."
elements CFO Scott Kauffman: "American Spa was a great strategic move for elements. The company has established itself within the fitness marketplace, and widened the audience with the development of our BalanceDiet brand. American Spa truly positions elements as an integrated family of healthy lifestyle brands, and allows us to continue to build a consumer-focused lifestyle business with some important economies of scale."
The acquisition of American Spa comes on the heels of longtime fitness industry executive JoAnna Tuttle being named President, as well as new signature store developments in Miami, New York, and California and the expansion of elements retail services division.
About elements:
elements® is a family of healthy lifestyle brands, including elements®fitness, STUDIO by elements, The BalanceDiet Company, slimberry®, thinspa®, elementsTV, and 1800 WEIGHT LOSS. The company offers development and joint venture opportunities including product development through a geographically based development system. elements® was founded in 2004 and is owned by Leisure Growth Holdings, inc, Miami, FL.