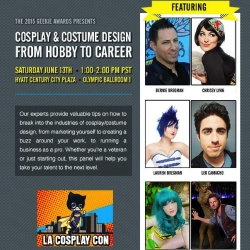 Los Angeles, CA, June 13, 2015 --(
PR.com
)-- Come to LA Cosplay Con. This year The Geekie Awards will have a panel entitled "Cosplay and Costume Design from Hobby to Career" from 1:00-2:00 P.M. on Saturday June 13th at the Hyatt Century City Plaza. Geekies cosplay experts and judges provide valuable tips on how to break into the industries of cosplay/costume design, from marketing yourself to creating a buzz around your work, to running a business as a pro. Whether you're a veteran or just starting out, this panel will help you take your talent to the next level. Panelists: 2014 Geekie Awards "Best Fashion" winner Lauren Bregman of Castle Corsetry, Chrissy Lynn, Leo Camacho, Jessie Pridemore and Brandon Hillock; moderated by Bernie Bregman of Nerds Like Us Club Cosplay. For more information about LA Cosplay Con and tickets: http://lacosplaycon.com
If you don't have your tickets to LA Cosplay Con, don't worry; The Geekie Awards has an extra ticket! You can get your exclusive virtual ticket to attend LA Cosplay Con when you join The Geekie Awards on their live stream channel: http://www.ustream.tv/TheGeekieAwards. The Geekie Awards new channel will be your ticket inside one of the hottest cons by streaming it to you live with exclusive coverage and backstage access throughout the day, including a look at the con floor, the best costumes, and the costume contest. Follow The Geekies channel for updates on events throughout the day, and interact with them throughout the live stream. Visit their Facebook event page for updates: https://www.facebook.com/events/761820813935555/
The Geekie Awards will be hosting a similar Cosplay panel at Anime Expo on July 4th from 2:30 – 4:00 P.M. Find out more about Anime Expo here: http://www.anime-expo.org/
The Geekie Awards are still open for 2015 submissions until June 14th. Enter your work now: http://www.thegeekieawards.com/
About The Geekie Awards:
The Geekie Awards®, an award show by geeks for geeks™, is aimed at placing the geek culture in the spotlight as a collection of valid, respected, award-winning genres for storytelling and creation. In an industry filled with award shows for established celebrities, we honor talented, independent creators and give them the opportunity to receive recognition in front of a worldwide audience and leaders in their respective industries. The Geekie Awards inspire creativity and hope and they foster cross-market innovation among entertainment, gaming, comics, art, and fashion. Their mission is to create a fun, action-packed, unforgettable broadcast event tailored to all of the things we geeks love—delivered via the latest digital technologies.
Additional information about The Geekie Awards is available at: www.TheGeekieAwards.com | Facebook: https://www.facebook.com/TheGeekieAwards | Follow #GeekieAwards and #ByGeeksForGeeks http://twitter.com/TheGeekieAwards on Twitter. You can also sign up for the newsletter for updates on the event, giveaways and more (http://bit.ly/1lepJPr).
The Geekie Awards would like to acknowledge their 2015 brand sponsors: PepsiCo Interactive, WowWee, J!NX, POW! Entertainment, WebMovement, Ranker, Her Universe, We Love Fine, Arcustech; as well as our partners: Encore Streaming and Next Level Agency. Special thank you to our community partners: Anime Expo, International Academy of Web Television, LA Cosplay Con, Gam3rCon, ITVFest, San Diego Comic Fest, Fashionably Nerdy, Mark Soderwall / Indie Game U, Chris Avellone / Obsidian and Chris Gore for helping take indie creators to the next level!