Celebrating the Newly Renovated Play Areas for Children Ages 1- 5 at Ruben F. Salazar Park in East Los Angeles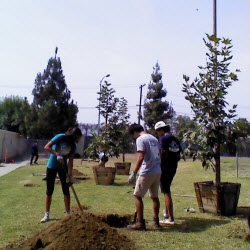 Los Angeles, CA, June 16, 2015 --(
PR.com
)-- Families in the community of East Los Angeles will be celebrating the newly renovated Tot Lot areas of Salazar Park on June 20th.
The newly renovated Tot areas and nature discovery trail are specifically designed for children between the ages of one to five and their caregivers, and include new and improved play equipment: A Wee-Saw, Omni Spinner, Swing Set, "Free notes "Musical Instruments, Music Center, Leaf Bench, Nature Wall Panel, ADA Picnic Tables, engraved nature themed play areas on the existing sidewalk and a new safety fence. Beautiful new trees and native plants were added with the help of the Amigos de los Rios' Emerald Necklace Stewardship volunteers and the California Conservation Corps.
The Tot Lot and Trail renovation was completed by Amigos de los Rios with key grant funding received from First 5 LA as part of their $10 million Tot Park Grant program and from the Los Angeles County - 1st District Supervisor – though a grant from the Los Angeles Regional Open Space District. Support for the native trees and plants landscaping were provided by Southern California Edison Foundation and Union Bank Foundation.
Salazar Park is popular park with the residents of Los Angeles County and is known for the 2001 mural by Paul Botello, "The Wall That Speaks, Sings, and Shouts" located on the west wall of recreation center. The mural was commissioned by Mexican norteño band Los Tigres del Norte and portrays themes of resistance, immigration, scientific advances, family life, and key historical figures within the Chicano community.
When: June 20, 2015 - 10:30am to 11:30pm
Where: Ruben F. Salazar Park
3864 Whittier Boulevard
Los Angeles, CA 90023
Background:
Salazar Park is the ninth park in LA County that Amigos de los Rios has renovated in collaboration with First 5 LA and the First District - Los Angeles County Regional Open Space District. Additional funding for the habitat landscape planting was provided by Union Bank Foundation and Southern California Edison Foundation. Visit www.First5LA.org/Tot-Parks-and-Trails for more information on First 5 LA's Tot Park program.
About First5 LA
First 5 LA is a leading early childhood advocate organization created by California voters to invest Proposition 10 tobacco tax revenues in Los Angeles County. In partnership with others, First 5 LA strengthens families, communities, and systems of services and supports so that all children in L.A. County enter kindergarten ready to succeed in school and life. First5LA's Tot Parks and Trails project is creating sustainable changes in communities to provide increased opportunities for families with young children to be physically active and shift to healthy and active living. Please visit www.First5LA.org for more information.
About Amigos de los Rios
Amigos de los Rios, 501c3 stewards of the Los Angeles County Emerald Necklace Park Network, collaborate with communities to protect and restore open spaces by designing quality public environments (parks and trails) that revitalize city neighborhoods within economically challenged communities in Southern California. For more information visit us on the web at www.amigosdelosrios.org
Contact: Claire Robinson – Managing Director
Claire@amigosdelosrios.org
626-676-5027
Contact: Claire Robinson – Managing Director
Claire@amigosdelosrios.org
626-676-5027
Contact
Amigos de los Rios
Sherri Robbins
626-791-1611
amigosdelosrios.org
Claire Robinson - Managing Director

Contact