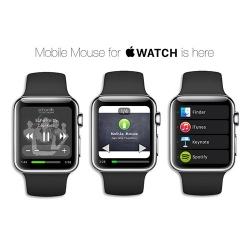 Miami Beach, FL, June 17, 2015 --(
PR.com
)-- RPA Technology has released Mobile Mouse 3.3.1, an iOS 8 optimized update, featuring an all new app for the Apple Watch.
Users have always enjoyed the ability to control their computer from their iPhone or iPad using the trackpad and remote capabilities of the app. The latest release adds an Apple Watch app that takes offers all the best remote features of Mobile Mouse on your wrist.
The Watch app contains a media remote, a presentation remote, and an application switcher. Using the media remote, users can change the tracks playing on their music player, view the album info, album art, and adjust the volume of their computer. With the presentation remote, users can fully control the presentation running on their computer, while viewing an image of the current slide right on the watch, and keeping track of their time with a presentation timer. The application switcher allows users to switch to any running app on their computer and put the computer to sleep.
RPA Technology has been very excited about the release of the Apple Watch and the capabilities Mobile Mouse could bring to it. They feel the Watch is the perfect device to act as a remote control that is always attached to you. Users no longer need to reach for their phones every time they want to change a track or the computer volume. Presenters can do away with a presentation clicker and simply tap their watch to advance slides, or glance at their watch to see their progress and the current slide.
Device Requirements:
* iPhone, iPad, and Apple Watch
* Requires iOS 7.0 or later
Company Website: mobilemouse.com