Update: Six Emerging ag Companies Present at AgTech Week to ag Investors
New information for AgTech Week, a new ag conference by GAI and Larta Institute, launches Monday, June 22 through June 24 in San Francisco, CA. Six emerging ag innovative companies are presenting/pitching in the AgTech Innovation Expo session on Thurs. 5 of 6 companies have received business assistance from Larta in their CAP programs or Ag Innovation Showcase.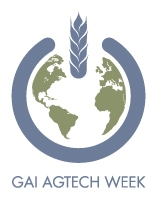 San Francisco, CA, June 18, 2015 --(
PR.com
)-- Global Ag Investing (GAI) and Larta Institute, two thought leaders in ag investing and innovation, have partnered to combine their organizations' ag knowledge and networks for a new West Coast ag investment conference, GAI AgTech Week, June 22-24. Headlining the inaugural event will be a keynote address and town hall Q&A by U.S. Secretary of Agriculture Tom Vilsack, who will speak to the current strengths, innovations and outlook for the agricultural economy.
AgTech Week will provide 2.5 days of networking, engaging presentations, and panels and interactive workshops, all designed to educate and inspire investors and entrepreneurs in the food and agriculture technology sectors worldwide.
Just added to this industry leading agenda, six early stage ag innovation companies will present a wide range of investment opportunities in the AgTech Innovation Exposition session from 2:00 p.m. to 3:00 p.m. on June 24th. The session will be led by Rohit Shukla, CEO of Larta Institute.
The emerging ag companies presenting at AgTech Week include:
· Asilomar Bio, an emerging company from San Francisco, creates products that improve crop yield and water efficiency in farming through enhancing water use efficiency, and combating parasitic weeds. Asilomar Bio is a current 2014-2015 USDA portfolio company from Larta's ag practice working on commercializing their innovation of enhanced drought tolerance in maize using strigolactones. http://www.asilomarbio.com/
· Whole Trees, from Madison, Wisconsin, a whole lumber engineering company, worked with Larta to create a sustainable round timber supply chain. They take a previously ignored byproduct of sustainably managed forests and engineer cost-efficient, sustainable building structural systems for commercial and residential use. Whole Trees is a current 2014-2015 USDA portfolio company from Larta's ag practice. http://wholetrees.com/
· Semios is an emerging leader in the development of M2M technology for agriculture. Their technology enables growers of high-value crops to monitor for insect pests, plant diseases and micro-climates and determine where and when to best take action to protect and increase crop value. They are at the forefront of a new wave of agricultural technology innovation involving precision agriculture, biological pest control and data management. http://semios.com/
· S4 is an ag IT company that provides an easy-to-use web platform to helps clients deal with information overload by aggregating detailed, accurate agricultural data and using it to help clients improve their production processes and protocols. S4 integrates multiple sources of information by geo-referencing it, mapping production data against Google maps. This enables more robust, real time risk management and resource allocation. http://www.solapa4.com/en
· Aerofarms®, founded in 2004, is a mission-driven company leading the way to address our global food crisis by building, owning, and operating farms that grow locally flavorful, safe, healthy food in a sustainable and socially responsible way, setting a new standard for totally controlled agriculture. An environmental champion, they have been fundamentally transforming the agriculture business by disintermediating the supply chain by enabling local farming at commercial scale all year round. http://aerofarms.com/
· Alchimia, Inc., is a Missouri based biomaterial processing technology integration, commercialization and project development company. Alchimia is initially positioned with novel processing approaches first proven by Inventure Chemicals, which are enabling technologies that fully unlock the value sequestered within biomaterials. Alchimia's process can unlock the potential values of carbohydrates, proteins and lipids, while allowing for segregation and purification of high value micro-compounds often overlooked within commodity processing.
Larta Institute is an innovation management organization that works with entrepreneurs in the hard sciences – companies that feed, fuel and heal the world. Using their trademark network-centric model as their guide, their trusted commercialization programs have been fine-tuned to provide highly customized business assistance to their portfolio companies. Larta Institute has given business assistance to five of the six companies presenting.
Joining Vilsack and the emerging companies on the AgTech Week agenda will be more than 75 sector-focused thought leaders, including Felicia Marcus, chair of the State Water Resources board, who will discuss the realities of the California drought, and Jack Bobo, senior advisor for biotechnology at the U.S. Department of State.
Additionally, representatives from Bayer CropScience, Monsanto, Syngenta Ventures, and Dow AgroSciences will discuss trends in research and M&A, while leading venture investors will discuss the evolution of agtech as an asset class. Top producers will share the farmer's perspective in "A View from the Field."
Presenting big data solutions to increase efficiencies and yield will be top innovators in farm management, including Conservis, Farmers Edge, FarmLink, and Farmers Business Network. Attendees also will hear of investment opportunities in agtech advancement hubs such as Israel and the Netherlands.
Visit www.agtechweek.com for the full agenda, or to register and save 15% with this code: ATW-LRT15.
For queries about the event Contact: Michelle Pelletier Marshall, mmarshall@highquestpartners.com
For queries about Larta Institute Contact: Corey Carleton, ccarleton@larta.org
Contact
Larta Institute
Corey Carleton
1-213-538-1441
www.larta.org
Please contact Michelle Pelletier Marshall
mmarshall@highquestpartners.com for event details.

Contact