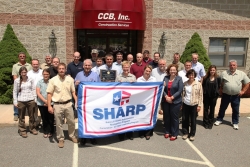 Westbrook, ME, June 24, 2015 --(
PR.com
)-- CCB, Inc. celebrated the receipt of a Safety and Health Achievement Recognition Program (SHARP) for their office, shop and yard at 65 Bradley Drive in Westbrook, Maine on Friday, June 19th. Pam Megathlin – Bureau of Labor Standards Director and Steve Greely- Maine Workplace Safety & Health Division Director presented a plaque and flag to the two dozen employees present. Additional kind words were shared by Colleen Hilton - City of Westbrook Mayor, Matt Marks - AGC Maine CEO, Beth Sturtevant - CCB, Inc. President and Bob Burdick - CCB, Inc. Safety Resource Manager.
Beth Sturtevant summed up CCB, Inc's ongoing commitment to safety with the statement; "Safety is a constant drum beat. It doesn't have an end; it is a constant and evolving process."
By achieving SHARP status, CCB, Inc. has placed themselves in an elite group of small businesses that maintain exemplary injury and illness prevention programs. In addition, CCB, Inc. has been granted an exemption from OSHA programmed inspections for up to 2 years at this site.
What is the SHARP Program?
The SHARP recognition program provides an incentive for Maine employers to work with their employees to find and correct hazards, to develop and implement effective Safety and Health Programs, and to become self-sufficient in managing occupational safety and health. The process starts with a comprehensive consultation including an initial assessment, followed by a report with recommendations. Program Requirements Maine employers who have been in business for more than one year are eligible to apply for SHARP regardless of size or type of business.