July 2015 Releases at Eternal Press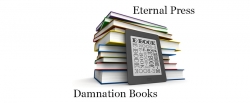 Santa Rosa, CA, June 30, 2015 --(
PR.com
)-- William and Kim Richards Gilchrist are releasing five titles on 1 July 2015 at Eternal Press. The publishing company is located in Santa Rosa, California.
Eternal Press releases titles from new and returning authors on a monthly basis. Titles are available in epub, pdf, mobi and trade paperback. Books can be purchased and downloaded directly from eternalPress.biz and from a variety of e-reader outlets including Kindle, Nook and iTunes.
Future Gold (Book 2 Future Girls Series) by Catharine Bramkamp
Genre: Historical Sub Genre: Regency
Breathe Deep (sequel to Deep Green) by Trisha Haddad
Genre: Young Adult Sub Genre: Adventure
The Rishis: Book of Secrets by Robert Delgado
Genre: Fantasy Sub Genre: Urban Fantasy
Almost Wonderful by Adrienne Davenport
Genre: Historical Sub Genre: Regency
Call Me by Rick Auterson
Genre: Romance Sub Genre: Thriller
Review copies may be obtained by email at
eternalPressPromotions@gmail.com
Follow us at Twitter @eternalpress
Like us at Facebook facebook.com/EternalPress
Get 50% off all Titles use code 61NF17DV2LEX at checkout.
Contact
Damnation Books
Sally Franklin Christie
406-209-1403
http://damnationbooks.com

Contact