Rekortan Chosen for Running Track Renovation at University of Pennsylvania's Franklin Field
Rekortan brand track material, "the Fast Track" made by Harmony, PA based Applied Polymer Technology was chosen by the University of Pennsylvania for its famous Franklin Field track. The track is home to the Penn Relay event each spring. Rekortan has been the official track material of the university and Penn Relays since 1987.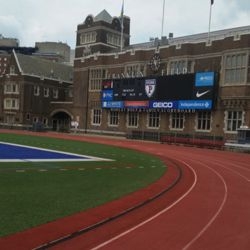 Philadelphia, PA, July 01, 2015 --(
PR.com
)-- The University of Pennsylvania has chosen Rekortan as the surface for its Franklin Field running track. The track is being completely renovated prior to the 2015 - 2016 season. Rektoran has been the official track surface of Franklin Field since 1987. The track is best known for hosting the annual Penn Relay races. Rekortan is made by Advanced Polymer Technology (APT), a Harmony, PA based manufacturer. APT will oversee the renovation and installation of the new track surface.
"Franklin Field is one of the premier track facilities in the country," said Gary Wilson, APT Director of Sales, Americas. "We're pleased that Rekortan's durable, innovative surface will continue to power the speed of runners at Franklin Field and the Penn Relays."
Mr. Wilson stated that Rekortan was selected once again because of its superior characteristics of speed and longevity. The original Rekortan track at Franklin Field was installed in 1987 and has received minimal maintenance resurfacing.
Rekortan's superior reputation is known around the world by world class athletes.
"I made three Olympic teams all while training on Rekortan surfaces. Injury free my entire career! In my 15 years of competing, I've found Rekortan to be the most outstanding surface in the world," said Harvey Glance, Olympic Gold Medalist, 2008 Assistant Olympic Coach, and Coach of 2012 Olympic 400m champion.
Follow APT Sports on Facebook, Twitter or Linkedin to learn more about Rekortan and the Franklin Field renovation.
APT Sports, a division of Advanced Polymer Technology, is the global leader in high-performance engineered sports surfaces. For more information, visit www.SportsByAPT.com
The Rekortan® Track System creates world-class polyurethane running tracks that are unmatched in quality and performance. Known since its debut in 1969 as "the fast track", Rekortan continues a tradition of excellence, supplying the most technologically advanced running surfaces in the world, used at international, collegiate and scholastic venues. An IAAF approved product, Rekortan's innovative design increases force reduction, resists UV degradation and provides excellent all-weather performance.
Advanced Polymer Technology is a leading manufacturer of polyurethane-based materials, acrylic coatings and synthetic turf and track products. With two ISO-certified manufacturing facilities and four global sales offices, the APT Group services the needs of the construction, chemical and sports industries worldwide. Committed to creating durable products and utilizing recycled materials, APT continues to review and improve its business and sustainability processes.
For more information, visit
www.AdvPolyTech.com
Contact
Advanced Polymer Technology
Jessica McManus
(724) 452-3034
advpolytech.com/

Contact
Multimedia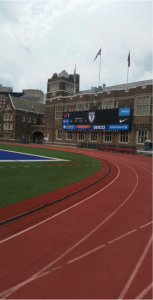 The track at Franklin Field, with existing Rekortan track surface which is being up-graded this summer. The new Rekortan track will be installed by September.