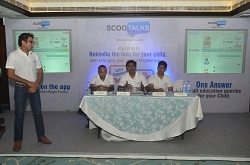 Jaipur, Rajasthan, India, July 03, 2015 --(
PR.com
)-- - A unique parents, students and schools centric start-up launched
- Another city based start-up, ScooTalks.com launched
- Largest platform for connectivity between parents and schools in India
- Now communicate better with your Kids' school community
The Jaipur tech start-up scene is proving to be more innovative with several new ideas being launched everyday. A first of its kind kids' services aggregator and parent-school centric website and app, ScooTalks.com has been officially launched today. The radical concept being presented here has been especially designed to suit the needs of Indian parents and kids' services providers.
ScooTalks.com
is the work of 6 months of hardship and team efforts by a team of 40 techies at ADDADOT Technologies LLP, a tech start-up promoted by a young and successful entrepreneur of the city, Mr. Bahul Chandra, who also heads Dotsquares Technologies, one of the biggest global tech-service providers based out of Jaipur, Rajasthan.
Mr. Bahul Chandra, the co-founder, ADDADOT and managing director at Dotsqaures, gleaming happy at the proud moment said, "What started as a young and small team of professionals has today reached a dream called ScooTalks. Buzzing with activities, and yet more to come, it is an effort towards making happy and content young families. It also puts forth a page where parents can come together to discuss parenting, helping each other out."
Relationship between parents and schools in India was noticed to be amiss when compared to that in the western world. Also was it noticed that Indian parents hardly get to spend time with their kids. ScooTalks is a step to bridge the gap that ominously prevails between parents and teachers and schools.
The service has been especially designed to connect parents, students, teachers and schools, along with helping them to make well-informed decisions for school-going kids and to communicate better.
As a part of its objective,
ScooTalks
offers tips and advises on better parenting and helps you track the location of your family but does not limit itself to just that. The service goes beyond 'how-to' genre to offer a huge database of localized events, tutors and hobby coaches that parents can utilize.
The service focuses on providing a two-way development. While it will be offering solutions to many issues that parents face, it will also be an open opportunity for small businesses, like kids' event management companies, tuition providers, hobby coaches and a variety of child experts to grow wide and beyond their location limits. Thus, it becomes a two-way opportunity for both the sides to grow equally.
Mr. Prashant Gupta, co-founder, ADDADOT, who also chairs Anumkampa Group, said, "ScooTalks, a first of its kind and state of the art product, a fresh new portal that provides utility oriented solutions to parents, students, teachers, and schools all tailored to their respective needs. It delivers all these functions in a way that molds all its users into a closely knit community that can work together to create all the elements of a child's development. Providing a vast directory of academic and extracurricular events, tutors for any and all purposes, challenging contests with prizes, a common platform connecting parents, students, teachers, and schools, it is the next big revolution of the virtual industry."