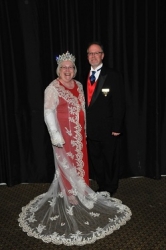 New York, NY, July 06, 2015 --(
PR.com
)-- The Grand Court of New York, The Order of the Amaranth, State of New York is proud to introduce the new Grand Royal Matron, HL Susan Johns Greenfield and Grand Royal Patron, SK Steven Joyce 2015- 2016.
The installation of officers took place at Hudson Valley Resort and Spa on Saturday, May 16th, 2015.
The New leaders of the Grand Court focus this year is service. The charity they support is the Amaranth Diabetes Foundation. Their Special projects are Veterans Organizations and the Masonic Youth Groups.
Starting in September 2015 the Grand Royal Matron, accompanied by the Grand Royal Patron will begin making official visits to all the courts located in New York State.
The Order of the Amaranth is a fraternal organization composed of Master Masons and their properly qualified female relatives. In its teachings, the members are emphatically reminded of their duties to God, to their country and to their fellow beings. The "Order of the Amaranth" means many things to many people.
To its early members it meant the opportunity to build upon the strong foundation of Truth, Faith, Wisdom and Charity. A fraternal order having for its purpose, service to humanity, set to the music of fraternal love. To its present members, the "Order of the Amaranth" means a challenge to build higher and stronger upon these foundations of Fraternal Love and Service. It means the Hand of Fraternal Friendship to those in distress. It means Thinking and Remembering about its members in their hours of sorrow and sickness.
For more information visit http://www.amaranthny.org/ or e-mail GRM HL Greenfield at suesing2@aol.com