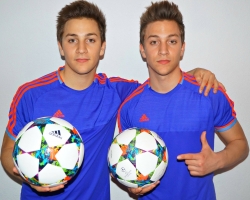 Chicago, IL, July 07, 2015 --(
PR.com
)-- Addison Youth Soccer Presents "SkillTwins Footwork Camp August 2015"
Soccer sensations Josef and Jakob also known as the "SkillTwins" have taken the internet and the soccer world by storm. The two twin brothers from Stockholm Sweden have showed off their fancy footwork to many well known Soccer celebrities and with over 1 million YouTube subscribers all eyes are on the twins. Their level of footwork is so amazing that it was instant that Addison Youth Soccer decided to contact the twins management team to conduct their amazing footwork in a camp for young soccer hopefuls. Soccer is a fast growing sport in the youth market and in some cities has overpowered sports like baseball and football. So with the diligent work of Frank DeAngelo and the twins management team, Addison Youth Soccer is happy to say "The SkillTwins Are Coming To The USA!" - SkillTwins
Youtube
announcement.
*The twins along with their parents will be arriving to the USA for their first time on
August 1st staying until August 22nd
*Camp will take place Monday - Friday August 3rd to 7th, August 10th -14th and August 17th - 21st
*There will be 3 sessions per day that will take place all broken up into 3 hours per session
*Each Session will have 75 campers ranging from the ages of 7 to 18 (high school) that will be broken up into 3 groups based on age and skill level
*Jakob and Josef will be training the campers and rotating every hour with other Skill leveled coaches and trainers teaching unique techniques and drills.
*The location of the camp will take place at The Odeum located in Villa Park IL one of the largest indoor soccer facility made for an amazing and large event like this.
This camp has already received massive attention with campers from all over the world that will be attending. Mexico, Sweden, Canada, Hawaii, and Multiple cities all over the United states will be coming to our city to be a part of a once in a lifetime opportunity to be trained by the best.
Addison Youth Soccer
600 N Villa Ave - Unit B
Villa Park IL 60181
Contact Joanne DeAngelo
Phone 630-362-1359