Sedation Dentistry: Whose Interests Are We Protecting?
Most general dentists offer sedation dentistry to their dental patients, according to a recent Wealthy Dentist survey. Dentists and patients alike rave about the benefits of oral conscious sedation dentistry.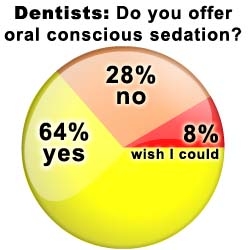 San Francisco, CA, December 04, 2007 --(
PR.com
)-- A recent Wealthy Dentist survey asked dentists if they offer their patients
sedation dentistry
. Two out of three dentists reported that their dental practices offer oral conscious sedation. A quarter of dentists don't feel comfortable offering sedation. And 8% said that they wished they were able to offer OCS, but regulations in their state made it too difficult to implement in their practice.
The American Dental Association (ADA) has proudly defended the safety of sedation dentistry. However, within the past year, an ADA sub-committee has recommended that the ADA overhaul its OCS regulations. The proposed new rules would significantly reduce the number of dentists able to offer "
sleep dentistry
" (as it is often called by the public). "Safety comes first, but there seems to be a growing movement by the vocal minority to regulate it so strictly as to minimize its use by dentists," observed a Missouri dentist.
Though the ADA insists the decision reflects public health concerns, many general dentists feel it's yet another example of specialists trying to take over. The proposed new regulations have been criticized by Trust for Equal Access in Medicine (TEAM1500), an advocacy group comprised of concerned dentists. "Oral surgeons and others are increasingly obstructive in their efforts to block sedation in any form by non specialists," complained a Delaware special care dental practitioner. Agreed an Oregon dentist, "The recent rules changes advocated by the ADA are ridiculous."
The leader in the field of educating dentists about sedation dentistry is the Dental Organization for Conscious Sedation (DOCS). This group educates approximately 1800 dentists annually. "DOCS is our most valuable asset," commented one California dentist. "The education this organization provides is top notch. We receive extensive training in pharmacology, medical emergencies, patient management and medical legal issues," said an Idaho
sedation dentist
. "If oral conscious sedation is taken away from dentistry, patients will not get the dentistry they need. There will be no place for them to go."
Sedation is a valuable tool in dentistry, especially for anxious patients, children, or those with special needs. "I love it and think it is very safe," raved a Michigan dentist. "I think oral conscious sedation is a fantastic way to provide fearful patients a comfortable, safe way of getting their dental work done," said a California dentist. "When you weigh the negative aspects of dental pathology, conscious sedation provides an avenue of treatment for these otherwise untreatable patients."
Dentists agree that sedation dentistry should be regulated, but they disagree as to the right level of regulation. "I am very pleased that many states are starting to regulate this and have established minimum requirements to use OCS," said an Arizona periodontist. "The regulations are overly onerous. More rules and regulations won't prevent irresponsible behavior; they will only prevent many competent practitioners from utilizing this modality," opined a Maryland pediatric dentist.
Many dentists are frustrated and unsure if they will be able to continue offering sleep dentistry. "We need a clear understanding of the new laws regarding what type of training/certification we will need to continue to offer oral conscious sedation in our practice," said a North Carolina dentist. A Minnesota dentist voiced another concern, saying, "Liability issues scare me off."
Those outside the dental industry may not realize the grand power struggle behind the sedation debate. Explains a California general dentist, "Dental anesthesiologists are expensive and OCS has taken away a lot of their business; therefore they want the most onerous regulations and education requirements so fewer GP's can offer OCS. Oral surgeons don't like OCS because GP's can do wisdom tooth extractions in their office, and those are oral surgeons' bread and butter. DOCS doesn't want to be driven out of business by onerous rules. The dental school and continuing education industry wants to drive DOCS out of the business by bringing the classes back to the dental schools."
"Oral conscious sedation may be the most controversial topic in dentistry right now," said Jim Du Molin, dental consultant and founder of The Wealthy Dentist. "There's a huge battle going on between the ADA and DOCS, Team1500, and other advocates of virtually pain-free dentistry. It hurts me to think of how many patients won't get dental care if the ADA's new guidelines - engineered by the surgeons - go into effect. Is it really in patients' best interest to limit their dental options?"
###
For additional information on this and other Wealthy Dentist surveys in the areas of dental implants, cosmetic dentistry, sedation dentistry, and dentures, as well as more dentists' comments, visit www.thewealthydentist.com/surveys.htm.
The Wealthy Dentist is a dental marketing and dental practice management resource featuring dental consulting expert Jim Du Molin. The site's weekly dental surveys and newsletters are viewed by thousands of dentists across the United States and Canada. The Wealthy Dentist is a sister company of the Internet Dental Alliance. IDA is the largest provider of internet dental marketing campaigns, dental websites, email newsletters and online find a dentist directories in North America.
http://www.thewealthydentist.com
Contact:
Jim Du Molin
http://www.thewealthydentist.com/contactinfo.htm
415-435-2818
Contact
The Wealthy Dentist
Jim Du Molin
415-435-28i8
www.thewealthydentist.com/surveys.htm

Contact