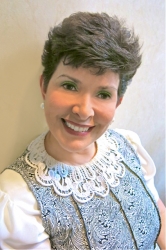 Atlanta, GA, July 21, 2015 --(
PR.com
)-- Pride Medical, Inc. announces the addition of Africa Alvarez-McLeod, MD, MPH, to its team. Dr. Alvarez-McLeod is an Infectious Disease Specialist who brings more than 25 years' experience to her role with the practice. Among her areas of focus, within HIV, are women's health (including pregnancy), transgender health and treatment of Hepatitis C.
"I am proud that we're adding another physician of Dr. Alvarez-McLeod's caliber and deep experience to our well-seasoned team," says David Morris, MD, Medical Director of Pride Medical. "She shares our holistic approach to health and wellness, so new and existing patients have the confidence that Dr. Alvarez-McLeod is not just addressing the medical need at hand, but also the person as a whole."
Dr. Alvarez-McLeod, who will begin seeing patients at Pride Medical August 10, previously served as Medical Director and Vice President of Medical Affairs for AID Atlanta, and also has worked with the Cobb County Board of Health and other area organizations focusing on HIV and other infectious diseases. She was the Infectious Diseases Consultant at St. Clare's Hospital Spellman Center, New York City's first AIDS-designated hospital.
She is a graduate of the University of Buenos Aires Medical School, and received her Masters of Public Health from Columbia University. She completed her Infectious Diseases Fellowship at the hospitals of New York Medical College, her Internal Medicine Residency at Mount Sinai Hospital Services at Elmhurst, and her internship in Infectious Disease at Interfaith Medical Center.
Dr. Alvarez-McLeod is a member of the Infectious Diseases Society of America, the American Academy of HIV Medicine, the American Society of Microbiology, and the American Society of Tropical Medicine and Hygiene, as well as the Georgia HIV Medical Advisory Committee and the Atlanta HIV Planning Council. She is certified in Infectious Disease and in Internal Medicine, and is licensed in Georgia, New York, Massachusetts and Argentina. She was honored in 2011 by election as a Fellow of the Infectious Diseases of America.
Pride Medical, Inc. (www.PrideMedical.com), which is located on Howell Mill Road, provides state-of-the-art comprehensive quality medical care in a multidisciplinary environment. Along with primary care and HIV/AIDS services, the practice also touts the independent in-house retail pharmacy, on-site infusion therapy, and more. In addition to serving patients from the Metro area, Pride Medical also serves patients from around the state, as well as some from out of state.