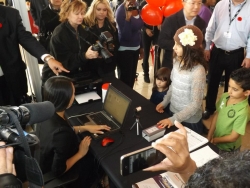 New Orleans, LA, July 21, 2015 --(
PR.com
)-- Operation Kidsafe Free Child Safety Weeks are happening all across the U.S. and Canada. An event has been scheduled for your area.
Operation Kidsafe is Free and private for families. Parents take home the only record of the visit….(a Bio Document) that is ready to hand to law enforcement in an emergency. Safety tips to start a family safety action plan are also included.
Operation Kidsafe founder Mark Bott is available for interviews. Your listeners and readers will long appreciate your efforts to let them know about this free and potentially lifesaving Child Safety Week Event.
Pam Hough - Marketing Director
Operation Kidsafe International
Direct Line 727-474-5869
Toll free 866-962-5487
Email operationkidsafe22@gmail.com.com
The event is free for every family. No special information is needed, as there is no data basing. Parents take home the only record of the visit.
Brought to you by: Ray Brandt Toyota
Event locations and times are:
Ray Brandt Toyota
2460 Veterans Blvd.
Kenner, LA 70062
(504) 464-4500
Thursday, Aug. 6th through Saturday, Aug 8th, 2015
Each day during normal store hours.