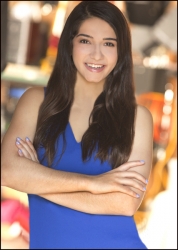 Coral Springs, FL, July 21, 2015 --(
PR.com
)-- Seventeen year old dance sensation Jordynn Lurie will spend part of her summer traveling the east coast to be a part of the solution to end childhood obesity and bullying. The North Broward Prep high school senior, who started her own 501(c)(3), Dance for the Heart, organized a dance tour to share a message with children about the physical and emotional effects of childhood obesity and bullying. She invited her mother who shares a similar message through her Tomgirlz chapter books to join her. Jordynn scheduled visits at Boys and Girls Clubs and other youth organizations to begin August 4, 2015 in New York and will complete the mission August 11 in South Florida. At each stop she will lead her Dance for the Heart program. Between scheduled stops Lurie has questions for children and families they meet along the way to learn their thoughts on these topics and get them dancing in the streets (or restaurants, or rest stops, the liberty bell, or wherever they find them) which she will share as a tool to educate children on her important cause in an entertaining way.
About Dance for the Heart
Dance for the Heart was founded by 17 year old Jordynn Lurie as a volunteer community service program to bring awareness to the physical and emotional effects of childhood obesity. The free one hour program for children ages 6-12 consists of interactive dance and game segments and a discussion on how dance can bring people together and help them be fit physically and emotionally. Jordynn says, "My goal is to get kids moving through dance who might not have access otherwise and accept each other as they are. Too often I've seen kids turn away from dance because they're afraid of ridicule and that's really sad. Dance equals freedom in so many ways. It's for everyone."
About Jordynn Lurie
Jordynn is a National YoungArts 2015 winner (out of over 11,000 high school applicants she was one of only 21 in the discipline of dance in the US to receive this top honor), she is the World Salsa Summit teen salsa world champion, and is a peace ambassador for NVEEE (a national anti-bullying organization). She is not of Latin heritage, but enjoys learning about other cultures. Jordynn and her brother Elan perform together across the US and teach workshops. Lurie says she created Dance for the Heart as a way to share her passion for dance and give back to the community. To learn more about Jordynn and support her efforts to provide free dance movement classes to children go to:
www.gofundme.com/dance4theheart
www.facebook.com/ElanandJordynn
About Tomgirlz
Tomgirlz is a chapter book series created by Dana Lurie. The characters are enthusiastic, adventurous, smart and caring. They have great leadership skills and through humorous stories, they are role models for young readers. The main character, Mackey Mack, is based on Lurie's daughter Jordynn. Lurie says, "There are many great organizations that have developed over the years to teach kids what bullying is; the Tomgirlz focus is on demonstrating what bullying is NOT, to point children in a more positive direction while they are young." Lurie is proud that her daughter Jordynn is now running her own organization and has become part of the solution.
www.Tomgirlz.com
, www.facebook.com/TomGirlz