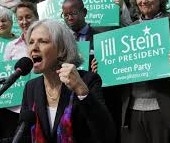 Springfield, IL, July 24, 2015 --(
PR.com
)-- The Healthcare Justice March is proud to announce that Dr. Jill Stein, the Green Party's presidential candidate, will join a distinguished collection of activists, faith leaders, and people with their own healthcare stories in speaking at the HJM Rally on August 1 in Washington, D.C. in W. Potomac Park adjacent to the Martin Luther King, Jr. Monument.
"We're thrilled to have the only female presidential candidate who's an outspoken advocate for Medicare for All single-payer healthcare in this country," says Sue Saltmarsh, HJM director. "Dr. Stein has proven her commitment to social justice of many kinds and healthcare has been a priority for her."
The 65-year-old Stein was born and raised in the Chicago area. She studied psychology, sociology, and anthropology at Harvard University before earning her medical degree from Harvard Medical School in 1979. During her career as an Internal Medicine physician, she became concerned about the connection between people's health and the health of the environment and her involvement in politics began with activism and proceeded to candidacy
Dr. Stein formally announced her 2016 candidacy for President in a Democracy Now! exclusive last month, introducing her Power to the People Plan. She'll be telling the HJM crowd about how the Plan will address the issue of healthcare, promoting an "urgent transition to an improved Medicare for All single-payer public health insurance program to provide everyone with quality healthcare at huge savings."
In addition, Dr. Stein says, "The Plan also creates deep systemic change, moving from the greed and exploitation of corporate capitalism to a human-centered economy that puts people, planet and peace over profit."
Stein is a seasoned campaigner, running for several offices in Massachusetts and in 2012, she was the Green Party's presidential candidate. In that race, Dr. Stein received more votes than any other female candidate for president in the history of the United States, despite being kept off the ballot and barred from debates.
Always standing up for the 99%, she is expected to receive much more support in 2016 as voters express their anger and frustration with the status quo.
"Dr. Jill Stein has spent her adult life promoting health," says David Ball, volunteer coordinator for the HJM. "She has been an outspoken champion for Medicare for All and has lots of followers including 107,000 'likes' on Facebook. The Healthcare Justice March is honored to have her address the rally."