Atheists Taking Soles at St. Paul Saints Baseball Game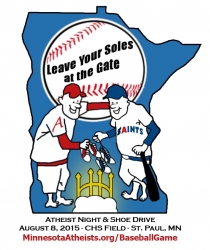 St. Paul, MN, July 24, 2015 --(
PR.com
)-- Local atheists are asking fans of the St. Paul Saints to leave their soles at the gate on Saturday, August 8, 2015 for "Atheist Night" at CHS Field. The Minnesota Atheists, Humanists of Minnesota, and Foundation Beyond Belief are partnering with the Saint Paul Saints minor league baseball team for a night of unbelievable fun and charitable shoe drive.
The Saint Paul Saints team name will be secularized to "Mister Paul Aints" for the atheist takeover when they play their division rivals, Winnipeg Goldeyes. The "S" in Saints will be covered on signs throughout CHS Field and the home team players will wear "Mr. Paul Aints" jerseys which will be auctioned off during the game. The auction's proceeds will benefit the charity work of Foundation Beyond Belief. The shoes which are collected will be delivered to Soles4Souls, a 501c3 organization dedicated to fighting the devastating impact of poverty.
"We are excited about partnering with the St. Paul Saints to achieve positive atheism in their new heavenly ballpark," said Eric Jayne, president of Minnesota Atheists. "The game of baseball is filled with miracles, curses, saints, and sinners, so it makes sense that our national pastime could help compel baseball fans to hand over their soles to a group of atheists." Full information about the Mr. Paul Aints game is at MinnesotaAtheists.org/BaseballGame
Minnesota Atheists is a 501(c)(3), educational organization that seeks to promote the positive contributions of atheism to society and to maintain separation of state and church. Minnesota Atheists actively promotes secular values through participation in public affairs, educational programs, and hosting the only live atheist radio talk show in the state: Atheists Talk, Sundays, 9:00-10:00 a.m., KTNF AM 950. Additional information at MinnesotaAtheists.org.
Humanists of Minnesota is a nonprofit educational corporation and has been granted a 501(c)(3) tax exemption as an education, scientific and charitable organization. Humanists of Minnesota is a chapter of the American Humanist Association and an affiliate of the Alliance of Secular Humanist Societies of the Council for Secular Humanism. Additional information at HumanistsOfMinnesota.org.
Foundation Beyond Belief is a 501(c)(3) nonprofit whose mission is to demonstrate humanism at its best by supporting efforts to improve this world and this life, and to challenge humanists to embody the highest principles of humanism, including mutual care and responsibility.
For Calendars: Mr. Paul Aints–St. Paul Saints Game: Saturday, August 8, 2015, 7:05 pm, CHS Field, 360 North Broadway Street, St. Paul, MN. The Infield ("Infidel") Reserved section is sold out, but Standing Room Only tickets are available at SaintsBaseball.com and the berm section (grassy patch behind the left-center field wall) is available at 10am the day of the game. Call 952-261-8207 or email pres@mnatheists.org for questions.
Contact
Minnesota Atheists
Eric Jayne
952-261-8207
www.mnatheists.org
Post Office Box 120304
New Brighton, Minnesota 55112

Contact