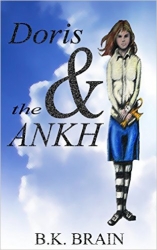 Canon City, CO, July 31, 2015 --(
PR.com
)-- When author B.K. Brain set out to write a book for his fourteen-year-old daughter, he looked to the classics for inspiration. Many great stories came to mind but two stood out as truly timeless: The Wizard of Oz and Alice in Wonderland.
"The sense of wonder in those books is undeniable. The worlds are beautiful and the characters stay with you long after the final page. That's what I strove for with Doris and the Ankh, my middle-grade fantasy. Even the name Doris is an amalgamation of Dorothy and Alice, in honor of those iconic adventurers. My daughter devoured the book and now I've released it on Kindle in hopes that other kids will enjoy it as well."
The middle grade fantasy
Doris and the Ankh
is now available on Amazon.com and at the Kindle store.