Badger Truck Center Appoints Christine Duncan Marketing Manager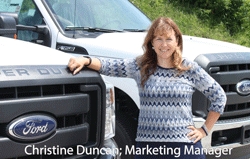 Milwaukee, WI, August 04, 2015 --(
PR.com
)-- Badger Truck Center, a family owned commercial truck dealership, has announced the appointment of Chris Duncan as Marketing Manager. Based out of Milwaukee, Duncan will handle marketing strategy and development.
"We are excited to have Chris join our company," says Craig Punak, Service Director at Badger Truck Center. "She brings a unique combination of business knowledge, sales, and marketing experience from a variety of industries. We are continuing to grow our business and expand our presence in the greater Milwaukee area and Chris' hire is a part of that effort."
Ray Pannemann, Sales Manager for Badger Truck Center, also commented. "Chris brings more than 20 years of marketing experience to us. Her ability to work well with multiple departments, as well as her enthusiasm, make her a great fit for Badger Truck Center – which focuses on providing customers with the fleet equipment, service and parts they require."
Previously, Duncan worked with DUECO, Inc. a final-stage manufacturer of utility vehicles. At DUECO, Duncan worked with the sales team to development its CRM and electronic communications program. She also was instrumental in positioning the company as a leader in the industry.
"I was interested in joining Badger Truck Center because of its commitment to customers over the past 50 years," Duncan says. "The company continues to expand its business divisions, to provide its customers a more robust company to work with. In particular, I am impressed with Badger's ongoing commitment and improvement, striving to become the most well-rounded comprehensive provider in the industry. I look forward to helping Badger Truck streamline and strengthen its marketing efforts to provide customers with full knowledge of all the services it can provide for them."
About Badger Truck Center:
Badger Truck Center, celebrating 50 years in business, is a second generation, family-owned commercial truck dealership with locations throughout southeastern Wisconsin. Badger started its business with the Ford franchise, and has expanded to include Isuzu and Chrysler, Dodge, Jeep and Ram. Additionally, Badger Truck has expanded its line of businesses to provide complementary services to its customers; Badger Truck Equipment, Quick Lane Tire and Auto Center, and Badger Rebuild. Badger's philosophy of teamwork, integrity, and open communication with customers ensures high quality equipment at the best value. Headquartered in Milwaukee, WI, Badgers services customers in throughout Wisconsin and Illinois. To learn more, visit badgertruck.com, or call 414-344-9500.
Contact
Badger Truck Center
Chris Duncan
414-344-9500
www.badgertruck.com

Contact