Peter Wyatt Selected as Ernst & Young's Technology Entrepreneur Of The Year
Record Holdings CEO Peter Wyatt was chosen as the Technology Entrepreneur Of The Year at the 2015 Australia Ernst & Young Entrepreneur Of The Year (Northern Region) awards ceremony.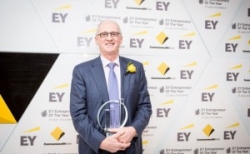 Denver, CO, August 06, 2015 --(
PR.com
)-- On July 30, 2015, Peter Wyatt was announced as the winner of the Technology Entrepreneur Of The Year (Northern Region) award in Ernst & Young's (EY) prestigious 2015 Australia Entrepreneur of the Year (EOY) competition. Wyatt, representing Record Holdings, has long been considered a serial entrepreneur and was chosen because of his use of technology to innovate the digital court recording industry. Wyatt competed in a very difficult category among other top industry professionals and was recognized at a ceremony this past Thursday at the heritage-listed Brisbane City Hall.
Wyatt, CEO of Record Holdings, which is comprised of sister companies For The Record and Auscript Australasia, has remained invested in researching and developing new ways to improve the way and speed in which parties access the court record.
After purchasing Auscript in 2004 and For The Record in 2013, he along with co-founder and President Tony Douglass completely re-engineered the court recording and transcript production process. Both companies are now leading their respective industries with innovation under the strong vision provided by Wyatt and Douglass.
On his selection, competition judges said, "Record Holdings has disrupted the market in Australia and has a solid plan to extend the business model to overseas markets."
Wyatt will now move on to the National Competition taking place in Sydney on October 15, 2015. The Australian National Winner will then move on to the global program next year in Monte Carlo to compete against other National winners from more than 60 countries for the title of EY World Entrepreneur Of The Year.
About For The Record
For The Record (FTR) is a global leader, dedicated to providing digital recording, review and content management solutions for justice, law enforcement, legislative and public meeting bodies. FTR's recording solutions have been the standard in digital evidence recording around the world for more than 20 years. With North American headquarters in Denver, CO, and global headquarters in Brisbane, Australia, FTR is able to develop and market its solutions in over 65 countries and can be found in over 27,000 venues worldwide. FTR is a wholly owned subsidiary of the Australia-based Record Holdings Pty Limited.
About Auscript
Auscript is the largest court recording and transcription provider in Australia, recording more than 180,000 hours of digital audio and delivering over 2.2 million pages of transcript a year. With the highest quality ratings in the country (99.33 percent), it is trusted by the Federal Court of Australia, Family Court of Australia, Federal Circuit Court of Australia, Queensland Department of Justice and Attorney-General and the Department of the Attorney-General in Western Australia.
Contact
For The Record
Cecily Waters
602-650-0958
www.fortherecordcom
303-305-9183

Contact