Elliott Homes Unveils 2016 St. Jude Dream Home Design
Elliott Homes LLC has been selected to build the 2016 St. Jude Dream Home. The 2015 Sun Herald People's Choice Award-winning custom home builder believes in giving back to the community and has donated the land for the project.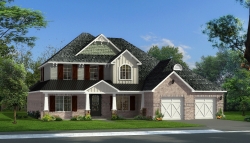 Gulfport, MS, August 09, 2015 --(
PR.com
)-- The 2016 St. Jude Dream Home will be approximately 3,500 square feet and have five bedrooms and three baths. It will be positioned on two adjoining lots donated by Elliott Homes. "After building the 2015 Dream Home in our Malpass West community in Biloxi, it was only natural for us to donate the land here again on behalf of the amazing people along the Mississippi Gulf Coast," states Brandon Elliott, President of Elliott Homes.
Malpass West was specifically chosen by Elliott Homes for these two Dream Home projects, "St. Jude is all about kids so we think of their needs first and foremost. This is a great school district that includes North Bay Elementary, Biloxi Junior High and Biloxi High School," states Elliott. "It's also home to the St. Jude Pond which is very special to all of us. Our team planted an apple tree by the pond last year to honor three local patients who have become a symbol of courage and strength to everyone involved in these projects. We plan on watching the tree grow with them through the years and are able to do so thanks to the top-notch care and dedication of the doctors and nurses at the St. Jude Children's Hospital," adds Elliott. He promises that the home will have hidden surprises just as the last Dream Home had.
This past week St. Jude and Elliott Homes held the Bricks and Sticks kickoff party at the Lookout Steakhouse in Gulfport, Mississippi. There were many local contractors and suppliers in attendance. According to Kelsey LeBlanc of St. Jude, "This is one of the top five kickoff events for attendance we have seen."
Tickets for the 2016 St. Jude Dream Home will be available for purchase in January 2016. Elliott Homes will be sharing news about the homes progress on their Facebook page
https://www.facebook.com/ElliottHomesLLC
.
About Elliott Homes - Established in 2009, Elliott Homes is a custom home builder providing the Mississippi Gulf Coast with unique designs for both affordable and high-end luxury homes. In addition to receiving many awards for their home plans including a 2014 and 2015 Sun Herald People's Choice Award-Winning Home Builder, several Best in Mississippi Awards, Elliott Homes has also been awarded the 2013 Talk of the Town Customer Satisfaction Award and the 2012 Builder of the Year Awards by both the Home Builders Association of Mississippi and the Home Builders Association of the Mississippi Coast. For more information about Elliott Homes, call 1-844-BUY-ELLIOTT or go to
www.myelliotthome.com
.
Contact
Elliott Homes LLC
Susan Siemiontkowski
1-844-BUY-ELLIOTT
www.myelliotthome.com

Contact