Free Wheelchair Mission's 12th Annual Miracle of Mobility Gala Raises $1.6 Million and Benefits Thousands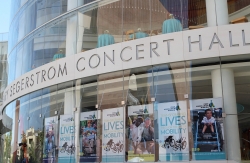 Irvine, CA, August 10, 2015 --(
PR.com
)-- Free Wheelchair Mission's 12th Annual Miracle of Mobility Gala, held on July 23rd, 2015, raised over $1,647,000 to benefit people in need of mobility. More than 630 guests attended the Gala at Costa Mesa's Segerstrom Center for the Arts in Orange County, California. Major sponsors included imortgage and Loan Depot. Funds raised will provide wheelchairs to more than 21,000 recipients in the developing world.
The Miracle of Mobility Gala featured a silent auction with items ranging from custom guitars to travel getaways. The Gala program included the Harvest Praise Ensemble, the Beach Pointe Singers duet and the night's featured guest, inspirational speaker and bestselling author, Nick Vujicic.
The work of Free Wheelchair Mission 'Ambassadors' was also highlighted. 'Ambassador' Kevin Ely's goal is to raise funds for 550 wheelchairs by running marathons in all 50 states. In less than a year he has run marathons in 38 states and raised over $30,000 to provide wheelchairs to those in need.
"I am humbled and amazed by the generosity of our donors," said Free Wheelchair Mission Founder and President Don Schoendorfer. "In one evening, our supporters were able to transform the lives of more than twenty thousand people."
It is estimated that over 100 million people in developing countries need wheelchairs without the means to afford one. Since 2001, Free Wheelchair Mission has provided over 860,000 wheelchairs at no cost to recipients in 91 different countries all over the world. The cost of manufacturing, shipping and delivering a Free Wheelchair Mission wheelchair is $77.91. Thanks, in part, to the success of the Gala, FWM is on target to achieve its goal to distribute one million chairs by the end of 2016.
About Free Wheelchair Mission:
Free Wheelchair Mission is a humanitarian, faith-based, registered 501(c)3 nonprofit organization headquartered in Irvine, California. Free Wheelchair Mission provides wheelchairs at no cost to people with disabilities in developing nations.
For more information about Free Wheelchair Mission, please visit freewheelchairmission.org.
Contact
Free Wheelchair Mission
Michele Werner
(949) 273 8470
www.freewheelchairmission.org

Contact