Badger Truck Center Appoints Cheryl Klein as Marketing Coordinator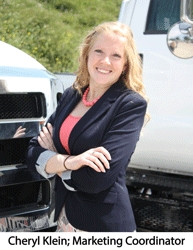 Milwaukee, WI, August 12, 2015 --(
PR.com
)-- Badger Truck Center, a family owned commercial truck dealership, has announced the appointment of Cheryl Klein as Marketing Coordinator. Based out of Milwaukee, Klein will handle many different aspects of Badger Truck's continuing market development.
"We are excited to have Cheryl join our team," says Chris Duncan, Marketing Manager at Badger Truck Center. "She brings a unique combination of sales and marketing experience. And, as we continue to expand and grow our business concerns in the greater Milwaukee area, Cheryl's skills and her ability to think outside the box will allow us to quickly execute the strategies we've put into place to implement these efforts."
Klein has a BA degree in Journalism with an emphasis in Advertising
from UW-Whitewater, and has recently become a graduate of the Waukesha Leadership Program; she also volunteers on the Emerging Leaders Board for the Elmbrook Humane Society.
Previously, Klein worked with DUECO, Inc. a final-stage manufacturer of utility vehicles, and Odyne Systems, LLC, a manufacturer of hybrid systems for medium- and heavy-duty work trucks. At both companies, Klein worked with the sales teams to development its trade shows, memberships, sales presentations and social media strategies, as well as executing both internal and external events. She also was instrumental in contact database management and the development of brand guidelines, press releases and company newsletters.
"I was interested in joining Badger Truck Center because of their unique position in both the commercial truck and retail vehicle space," Klein says. "I look forward to working with a strong, passionate, family-oriented team to push towards our market goals."
About Badger Truck Center
Badger Truck Center, celebrating 50 years in business, is a second generation, family-owned commercial truck dealership with locations throughout southeastern Wisconsin. Badger started its business with the Ford franchise, and has expanded to include Isuzu and Chrysler, Dodge, Jeep and Ram. Additionally, Badger Truck has expanded its line of businesses to provide complementary services to its customers; Badger Truck Equipment, Quick Lane Tire and Auto Center, and Badger Rebuild. Badger's philosophy of teamwork, integrity, and open communication with customers ensures high quality equipment at the best value. Headquartered in Milwaukee, WI, Badgers services customers in throughout Wisconsin and Illinois. To learn more, visit badgertruck.com, or call 414-344-9500.
Contact
Badger Truck Center
Chris Duncan
414-344-9500
www.badgertruck.com

Contact