Molecular Glasses, Inc. Moves to Eastman Business Park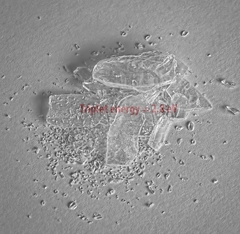 Rochester, NY, August 12, 2015 --(
PR.com
)-- Molaire Consulting LLC has established Molecular Glasses Inc. as a newly formed Delaware Corporation with all related intellectual property being transferred into the new entity. Molecular Glasses is a technology company initially focused on the development and commercialization of novel Organic Light Emitting Diode (OLED) materials for use in a variety of applications including small and large displays and commercial and automotive lighting. Molecular Glasses executive appointments include Mike Molaire as CEO and President, Mark Juba as Chief Operating Officer, and Dr. David S. Weiss as Advanced Research Director. Concurrently, Molecular Glasses, Inc. has leased laboratory space in the Eastman Business Park.
"We are assembling a top-notch management and technical team to quickly commercialize our novel technology," said Mike Molaire, CEO and founder of Molecular Glasses, Inc. "We view ourselves as the bridge to the OLED future as our novel materials are compatible across both existing and evolving market verticals and manufacturing processes."
Molecular Glasses has invented a new class of materials called NONcrystallizable™ that can be used in the existing Vacuum Thermal Deposition manufacturing process and also have the high solubility and stability required for the emerging Solution/Printing production processes. This eliminates the need to change materials when converting from the existing to emerging solution based manufacturing processes. Our NONcrystallizable™ OLED materials also have high thermal stability and exceptional light extraction capabilities enabling longer life and higher efficiencies in end use devices such as cell phones and flat panel displays.
About Molecular Glasses, Inc.
Molecular Glasses Inc. focuses on proprietary NONcrystallizable™ molecular glasses for stable and long-lived OLED and other organic electronics. We are developing NONcrystallizable™ hole-transporting, electron-transporting, ambipolar, fluorescent, phosphorescent, water-soluble, crosslinkable, and solvent- or vacuum-coatable molecular glass mixtures.
Our mission is to provide NONcrystallizable™ molecular glasses to OLED and organic electronics manufacturers for their use in commercializing stable and long-lived displays, lighting products, organic solar cells and thin film transistors. Our primary business strategy is technology licensing and organic semiconductor materials sales. For more information, visit us at www.molecularglasses.com
About Mike Molaire
Michel (Mike) F. Molaire is CEO/Founder of Molecular Glasses Inc., Principal/Founder of Molaire Consulting LLC. He received BS (chemistry), M.S. (polymer science), and MBA from the University of Rochester. He retired from the Eastman Kodak Company as a Senior Research Associate in 2010. He has 40 years of extensive interdisciplinary experience spanning project leadership, international exposure, intellectual property expertise, technology transfer, materials research, process development, OEM sales, business analysis and planning. He holds 58 U.S. and over 120 international patents. Molaire is recipient of Kodak's C.E.K. Mees Award for excellence in scientific research and reporting, inductee of Kodak's Distinguished Inventor's Gallery and the African Scientific Institute Fellowship. He is the original inventor of Molecular Glasses, Inc. NONcrystallizable™ OLED technology. He is a member of the American Chemical Society, International Society for Imaging Science and Technology (IS&T), the International Society for Optics and Photonics (SPIE), and the Rochester Professional Consultant Network (RPCN). He currently serves as Board Member of IS&T and RPCN.
About Mark Juba
Mark Juba, has almost four decades of operations leadership, in chemical and plastic film manufacturing, including extensive experience in process and product commercialization and business development for international markets in Europe and Asia.
During a 36+ year Career with the Eastman Kodak Company, Mark held positions of increasing responsibility in chemical and film base manufacturing and general management. As General Manager of the Industrial Materials Business Unit he was responsible for the P&L, Balance sheet and strategic plans for the business, including new product commercialization and technology development. After leaving Kodak, Mark served as COO of New Buffalo Shirt Factory with responsibilities for Manufacturing and Logistics, Customer Service and Information Technology and Human Resources. He participated in the successful sale of the Business to Gildan Inc. in 2013. Mark has a BS degree in Macromolecular Science from Case Western University, and a MS in Chemical Engineering from the University of Rochester. He received a certificate from the Executive Development Program at the Fuqua School at Duke University. Mark is an active volunteer with the Seneca Waterways Council of the Boy Scouts of America, and was recognized with the silver beaver award for his service to the Council.
About Dr. David S. Weiss
Dr. David S. Weiss is a Senior Scientist in the Department of Chemical Engineering at the University of Rochester. He received his BS in chemistry from Lehigh University (1965) and Ph.D. in chemistry from Columbia University (1969). He retired from the Eastman Kodak Company as a Scientist Fellow in 2009. His research has focused on electrophotographic technologies with emphasis on organic photoreceptors and other organic-based devices. He holds 26 U.S. patents and is author on over 100 publications. He is co-author of Organic Photoreceptors for Imaging Systems (Marcel Dekker, Inc., 1993), Organic Photoreceptors for Xerography (Marcel Dekker, Inc., 1998) and he is co-editor of the Handbook of Imaging Materials, Second Edition (Marcel Dekker, Inc., 2002). He is a member of the American Chemical Society, Society for Imaging Science and Technology (IS&T), Phi Beta Kappa, Tau Beta Pi, and Sigma Xi. He is a Senior Member and Fellow of the IS&T and is a recipient of the Chester F. Carlson Award for contributions to electrophotographic technology.
www.molecularglasses.com
Molecular Glasses™, NONcrystallizable™, Molaicular™, Molaicular Inside™, ISOmeric™ are trademarks of Molecular Glasses, Inc.
Contact: Mike Molaire
585-210-2861
mike.molaire@yahoo.com
Contact
Molecular Glasses, Inc.
Mike Molaire
585-210-2861
molecularglasses.com

Contact