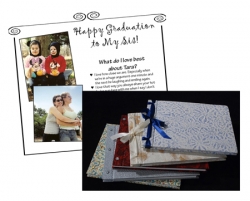 San Francisco, CA, February 16, 2016 --(
PR.com
)-- Palliative nurse, Bonnie Ware, recorded the most common regrets of the dying and found that one of the biggest regrets people have on their deathbeds is not saying "I love you" enough or showing friends and family how much they mean to them.
Sherry Richert Belul creates one-of-a-kind Celebration books that are chock-full of appreciations, memories, wishes, and photographs from a group of someone's closest friends and family. The books are filled with the kinds of things people usually say at funerals. But the recipient gets to hear it now.
"What's at the heart of the books is that they reflect who someone is in the eyes of the people who know and love them best," says Sherry Richert Belul, founder of Simply Celebrate. "They are the perfect antidote to a culture of 'not enough,' 'do more,' and 'jump higher.' The books reflect relationships and simple joy de vivre." These are not scrapbooks filled with ticket stubs and cocktail napkins. They are high-end books filled with tributes and stories to help someone see themselves for who they really are.
Some of the questions friends and family respond to are: what do you love best about this person? What have you learned from him? What are your favorite stories/memories?
These books are a touchstone, a gift of love that lasts a lifetime.
A few favorite lines from some Celebration Books:
* A favorite story? When she asked me out, she was wearing her ugly baby blue wind pants. Fortunately, I was willing to overlook those pants because we had an amazing time together - and it hasn't stopped yet!
* What have I learned from her? That's she is a nice caring mommy, and she taught me to de-grease my pizza.
* I love his enthusiasm for life. Joe walks into the bar and the bartendress asks what he will have. "Everything," he replies, "and don't hold back on the excitement."
* The story of our proposal? I knew it had to be simple because Lora is hard to surprise. So I put the ring on our cat's collar and sent him upstairs to see her. But she didn't notice, even when he was rolling in front of her!
Now people can create their own books like this easily and with the guidance of Belul. This four-week-class is offered online and includes step-by-step instructions, templates, resources, audio/video inspiration, and more all for just $29.
http://www.simplycelebrate.net/mad-moon
http://simplycelebrate.net/diy-celebration-book-class