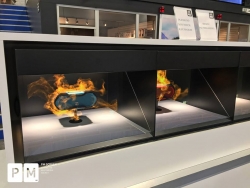 Seattle, WA, August 14, 2015 --(
PR.com
)-- Altec Lansing's amazing line of everything-proof portable Bluetooth speakers are now available at retailers across the US, including 146 Best Buy stores. Customers can now visit select Best Buy stores to see and demo speaker models, beautifully presented in PM Screen 3D holographic endcap display that illustrates the product's' durability by making it appear as if they are being assaulted by fire and water.
Altec took the decision to implement the PM Screen proposed holograms to deliver their message to the world and it is achieving phenomenal results as anticipated.
Their approach to Holographic Storytelling is turning heads and inspiring curiosity in all major publications, consumers and distributors alike.
"Since we introduced our waterproof LifeJacket speaker 11 months ago, the ruggedized Bluetooth speaker category has exploded. It was our #1 seller in 2014, and it set the standard for every other brand entering the space," said Ike S. Franco, Managing Partner of Altec Lansing.
How Holographic Imaging Sold their Product
Altec needed to shock and awe audiences when launching this innovative new line of indestructible wireless speakers. They succeeded in doing just this by implementing the power of the PM Screen holographic displays and custom made animation.
The vivid holographic imaging uses water and fire elements to tell the full story of the durability of the product. As anticipated, this spectacle is currently attracting crowds of people who are transfixed, watching the entire presentation from beginning to end.
The Simplicity of Installation
PM Screen holographic displays come with 'easy plug and play' capabilities. All displays endure rigorous testing to ensure that your presentation is flawlessly executed driving your message to the masses.
All creative works were left in the hands of PM Screens who created stunning visuals, which acted as a powerful interactive holographic storytelling strategy. Once all the graphics are completed, the device is easily transportable to your desired location, requiring only a power source to unleash the power of the hologram.
Differentiate your Brand
The success of Altec in using the PM Screen display to present their indestructible speakers allowed them to successfully differentiate their brand from their competitors. This amazing technology has the ability to launch any product with the flare required to astonish audiences, capture the attention of investors and distributors and grow your profits immensely.
With the PM Screen displays, you hold the power to turn dreams into reality.
Speakers are available at select Best Buy stores and at BestBuy.com in various colors. Altec Lansing also offers three other everything-proof Bluetooth speakers, all with the same IP67 rating and core feature set.
Other retailers now carrying Altec Lansing's all-weather Bluetooth speakers include Office Depot/Office Max, Verizon Wireless, Kohl's and Best Buy Canada, with a combined 4,100 locations. More than 4,000 other stores representing multiple big box retailers are scheduled to add the products this quarter.
Pmscreen.com- PM Screen is one of the leading global providers of complete special media installation solutions - experienced team of creative professionals will wow your audience like never before. Top-of-the-line technology with a dash of flair and innovation to deliver an impression the way nobody else can. Tailor-made shows and displays will transform any occasion - from product presentations to festival shows to those special moments in life - into an unforgettable experience.
Read more – http://www.prnewswire.com/news-releases/altec-lansings-everything-proof-portable-speakers-available-at-best-buy-300095776.html
Altec Lansing – Altec Lansing continues to be a first choice for musicians and audiophiles alike. Those who know audio, know Altec.