Cable Tester with Spanish Text Option
The CableEye cable tester and wire harness tester now includes a Spanish-language text option that translates screen labels and dialog boxes for Spanish-speaking operators. Built-in scripting automates testing to further simplify production use.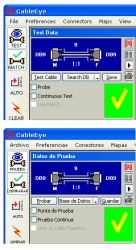 Acton, MA, December 06, 2007 --(
PR.com
)-- CAMI Research's CableEye PC-Based Cable and Harness Test System now ships with multi-language capability. When the program's language preference is changed from English to Spanish, screen labels, dialog boxes, advisory screens, and error messages appear in Spanish-language text to benefit operators fluent in this language. The program may be quickly changed from one language to another at login to accommodate workers with different language preferences who share the same test station. The latest software release also includes Turkish-language text. French- and German-language text will be available in early 2008.
CableEye's built-in scripting system permits test engineers to pre-program a complex sequence of steps, further simplifying the operation for unskilled workers and ensuring a consistent process. By pressing a single button, the operator will trigger steps that test a cable, log the test result to an archive, print a report, print a label, or take conditional actions depending on a pass or fail result. The test engineer may set up optional pop-up windows that appear during the script to provide set-up instructions in the language of choice.
Basic CableEye® test systems start at $1295 for 128 test points and may be expanded to over 2000 points. The price includes software and free tech support. CableEye's software runs on Windows 2000, XP, or Vista computers. Software upgrades are available at no charge to CableEye owners with active warranties, or may be purchased for $295 by customers with older equipment. Demo systems available for no-charge evaluation.
For further information:
Christopher E. Strangio, Marketing
CAMI Research Inc.
530 Main Street, Suite 2
Acton, MA 01720
e-mail: sales@camiresearch.com
Tel: (978) 266-2655 Fax: (978) 266-2658
web: www.camiresearch.com
###
Contact
Cami Research Inc.
Chris Strangio
800-776-0414
www.camiresearch.com

Contact