New Book for Churches Needing to Build
Few church leaders have the experience or training to navigate a building program in a manner that minimizes the risk and maximizes satisfaction with the resulting project. Written by an experienced church building consultant, "Preparing to Build" provides best practices and real world tips to help church leaders build with less stress, risk and cost.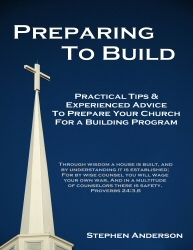 Raleigh, NC, December 06, 2007 --(
PR.com
)-- Church building consultant and author Stephen Anderson ministers to pastors and building committees in his first book on how churches can reduce their cost in terms of time, effort, stress, and money in a church building program.
In "Preparing to Build," Mr. Anderson calls upon not only his own experience in leading his church's building program, but nearly 7 years of church construction consulting experience. Written in easy to understand layman's terms, the result is a 179-page guide to church construction that covers the technical and spiritual issues of building with the unique perspective of someone who has been on both sides of the building process.
Reader response to the book has been excellent. In a recent reader survey the respondents were equally split between rating it a "must have" and "highly recommended." According to Building Chairperson Dwight E VanDaveer, "'Preparing to Build' was an incredible value, just a wealth of information. The truth and his experience jump off the pages."
Mr. Anderson comments, "Most churches are unequipped either experientially or by training to execute a building program in the most effective manner. It is distressing to learn how unprepared they are to enter into building programs costing hundreds of thousands or millions of dollars." Preparing to Build, ISBN 978-0-6151-3805-3 is available on the author's web site at www.amiccs.com or from national booksellers such as Amazon.com
###
Contact
AMI Church Consulting Services
Stephen Anderson
919-553-1760
www.amiccs.com

Contact