The American Dream Achieved by Self-Made Ohio Industrialist Through Hard Work and Determination
Stephen L. Hightower Has Created One of the United States Most Prosperous African-American Owned Businesses.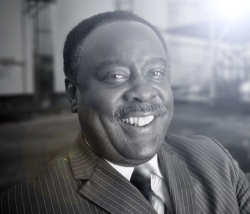 New York, NY, August 19, 2015 --(
PR.com
)-- What began in 1957 as a small family-owned janitorial service company outside of Cincinnati, Ohio, Hightower Family corporations has since blossomed to that of a non-traditional tight market segment of the energy sector.
Through persistence, drive and determination, Stephen L. Hightower has methodically built his wholesale fuel distribution business into an energy solutions enterprise that today is recognized throughout North America and Africa for its customer service, integrity, creative fuel distribution model and expert handling of complex upstream and downstream issues.
In 1984 Stephen started Hightowers Petroleum Company (HPC) based in Middletown, Ohio, as a licensed Motor Fuel Dealer. With foresight and continuing innovation, HPC developed a "Virtual Marketplace" throughout the United States with the ability to provide gasoline, diesel, "DEF", fleet cards, disaster response, generator programs, and alternative energy nationally and internationally.
Stephen has been a leader in the energy sector for over 30 years. As President & CEO of Hightowers Petroleum Company, he has built the company into the largest African-American owned downstream petroleum marketer in the U.S. Today, servicing Fortune 500 customers including General Motors Company, Ford Motor Company, Kroger Company, Federal Express, Duke Energy and AK Steel among others. Additionally, he is principle owner of Hi-Mark Construction Group and HP Energy, a developer of energy efficiency projects.
Surpassing annual revenues of over $345 million has landed HPC as one of Black Enterprise 100's list of the nation's largest Black-owned industrial/service companies, with an additional $30 million with his other affiliates.
Stephen has remained active in the international community since 1984, primarily in Nigeria, South Africa, and Mexico; He maintains relationships with most of the major energy companies across the United States. Stephen continues to be a leader in the industry while providing value and innovation to all of his customers.
Through the leadership of Stephen L. Hightower, Hightower Family corporations continue to provide its customers with unique processes; in addition has built a supply chain that "Exceeds Expectations" while "Fueling America's Energy Needs" one customer at a time!
Stephen served on the Board of the Society of Independent Gasoline Marketers of America (SIGMA). He was appointed by the Secretary of the Department of Energy to the National Petroleum Council and is active on Capitol Hill with the Cincinnati USA Regional Chamber of Commerce Government Affairs Committee, NACS, SIGMA, OPMA Legislative committees as well as a member of the 21st Century Council of the Congressional Black Caucus Institute. He is a member of the Wright State University Foundation Board of Trustees.
He was appointed to the National Park Foundation's Board of Directors by President Barack Obama and confirmed by Secretary of the Interior, Kenneth Salazar. Stephen also serves on the Corporate Roundtable for the National Black Caucus of State Legislators.
A lifetime resident of Middletown, Ohio, Stephen majored in Business Management and Communications at Wright State University and completed executive management programs at the University of Virginia - Darden School of Business, the Kellogg School of Management at Northwestern University, Tuck School of Business at Dartmouth and Robbins Research Institute.
Stephen also remains extremely active delivering emotionally riveting speeches to businesses, entrepreneurs, and students on perseverance, leadership, and fulfilling your dreams!
For more information, please visit
www.StephenHightower.com
.
Contact
Connect Central
Tva Parks
1-702-816-2700

Contact