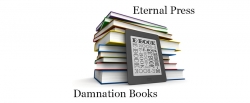 Santa Rosa, CA, August 30, 2015 --(
PR.com
)-- Damnation Books and Eternal Press are owned by William and Kim Richards Gilchrist in Santa Rosa, CA. September 2015 brings new titles from both publishing houses. The couple takes pride in offering Darned Good Fiction on a monthly release schedule.
From Damnation Books –
"Future Imperfect" by M. Scott Chambers
ISBN 9781629293226
Genre: Science Fiction Sub Genre: Dark Fantasy
Blurb: No one can change the past.
"Human Chess" by Kevin Smith
ISBN 9781629293165
Genre: Thriller Sub Genre: Action/Adventure
Blurb: The Sting meets The UFC and whether the promoter, the con man, or the fighter should run the league.
"Snuff" by Andrew Richardson
ISBN 9781629293189
Genre: Horror Sub Genre: Horror
Blurb: Archaeologist Shauna Hegarty is looking forward to a working holiday in the Scottish Highlands, but..
From Eternal Press –
"Crossing Roads" by JE Cammon
ISBN 9781629293202
Genre: Paranormal Sub Genre: Urban Fantasy
Blurb: Nicholas Hughes has no idea how you kill something that cannot die, destroy something that has no body, but there's rumor of a crafter that can make anything, so that is where he will to start.
"Honor at Stake" by Declan Finn
ISBN 9781629293028
Genre: Romance Sub Genre: Vampire
Blurb: One is a heartless, merciless killer. The other is a vampire.
"Kingmaker of Meldarvis" by Percia Pierce
ISBN 9781629293066
Genre: Erotica Sub Genre: Fantasy
Blurb: Wanted: Smart, Suave, and Sexy Male to be King.
"The Vampire, the Handler, and Me" by Eileen Sheehan
ISBN 9781629293103
Genre: Paranormal Sub Genre: Vampire
Blurb: In a romantic triangle of good and bad, it's hard to tell who is good and who is bad.
"Vienna Sky" by Josh Sinason
ISBN 9781629293127
Genre: Young Adult Sub Genre: Thriller
Blurb: When the world pushes you to your limits, sometimes your limits push back.
Eternal Press and Damnation Books are available through major retailers in formats compatible with most popular e-readers. Titles are also available in trade paperback.
Go to EternalPress.biz or DamnationBooks.com to get 50% off all Titles by using code 61NF17DV2LEX at checkout.
Follow them on Twitter @eternalpress @damnationbooks – Like them on FaceBook – to buy autographed copies of various titles visit them on eBay at ebay.com/usr/ep-dbbooks.
For Review Copies, please email
eternalpresspromotions@gmail.com