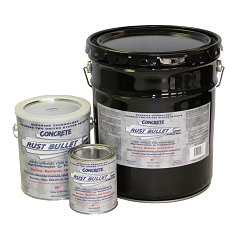 Reno, NV, September 02, 2015 --(
PR.com
)-- Rust Bullet, LLC today announced availability of its superior, multi-patented coating now formulated for garage floors, patios, basements and more.
"Rust Bullet products have been used to protect a wide variety of assets around the world from pipelines, vintage automobiles, dams and many more. We formulated our multi-patented coating to provide superior protection for garage floors. It absorbs better, costs less to apply, and lasts longer than competing products," said Mike Moore, CEO, Rust Bullet, LLC.
Rust Bullet went on to describe some of the key benefits of Rust Bullet For Concrete:
· No hot tire lifting, peeling or flaking
· Chip Resistant
· No acid etching or grinding required
· UV resistant
· Chemical and road salt resistant
"Garage Flooring, LLC has been in the garage flooring and storage industry for over a decade. For the first time, there is now a fix to the issues homeowners face with epoxy. Rust Bullet requires little to no prep and performs so well that I have installed it in my friends' homes. It is truly the DIY product that others have pretended to be -- except it works!" said Justin Krauss, President, Garage Flooring, LLC (www.garageflooringllc.com).
Rust Bullet, LLC is a coatings manufacturer, headquartered in Reno, NV, USA, specializing in protective, rust inhibitive and corrosion control coatings. Rust Bullet, LLC sells to businesses and consumers around the world through its global distribution network of distributors, resellers, and independent contractors. For more information, please contact Rust Bullet, LLC at 1-800-245-1600 or via email at sales@rustbullet.com.