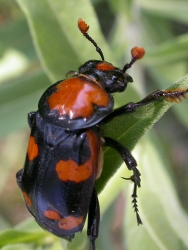 Oklahoma City, OK, September 09, 2015 --(
PR.com
)-- K9 University recently published a
white paper
documenting the completion of a study that included two years of field trials, clearly proving that properly trained canines can be used for conservation efforts. This will also help developers navigate through the maze of complex federal regulations. This effort was launched in 2012, and has undergone successful field trials during the 2013, and 2014 beetle seasons.
The American Burying Beetle (Nicrophorus americanus) was added to the endangered species list in 1989, and very little scientific effort has been made to measure its current status. Until today, unsophisticated methods have been used to trap beetles in affected areas using bait (carrion), and then using these trap-counts as evidence that the beetle is present, therefore making the area off-limits for development. Scientists have argued for years that the use of a bait process is flawed as this process serves as an attractant. The beetles are being attracted to the development site which is contrary to conservation efforts. "The truth of the matter is that until now, there has only been one solution offered for developers, purchase expensive mitigation credits, which then gives that developer the right to kill these beetles when found on site," said Angel Soriano, CEO of K9 University, LLC. "We put our teams to work and developed a better method than pay-to-kill, it's really that simple."
The dogs were trained to search and alert on carrion down to 24 inches in depth, with a 95% success rate. Carrion is what the American Burying Beetle uses to feed and multiply. Once the carrion is found, the team can then either inspect it for the presence of the beetle, or can assume it is present and avoid the area. This new method was adopted into a Fish and Wildlife Service protocol, and is available for use by energy and land developers.
"K9 University is now expanding the research efforts to develop dogs to alert on the actual American Burying Beetle, as this will allow for year-round development and protection of the species," said Soriano.
It is not a new phenomenon to see canines helping mankind, as trained dogs have been helping for hundreds of years. They are commonly known to detect explosives, drugs, people, and very recently even cancer. "Our research proves that it is possible to protect endangered species while allowing industry to do their jobs --- this is huge," Soriano concluded.
About K9 University:
K9 University, LLC
is the parent company to
K9 University Detection
, and is an institution focusing on conservation and specialized training for complex behavioral conditions. K9 University has set the industry standard for achieving positive, sustainable results that can be used over and over again to bolster the behavioral learning process.