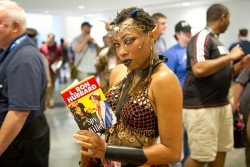 Atlanta, GA, September 09, 2015 --(
PR.com
)-- While pop culture movies, TV and games remain the strength of Dragon Con, Galaxy Press was happy to report that book sales were improved over previous years. (www.galaxypress.com) Whether dressed as their favorite comic book or movie character or simply walking the convention center show floor, readers were drawn to the bright book covers, reminiscent of the pulp magazines of America's Golden Age of storytelling.
"It is interesting to note," stated John Goodwin President of Galaxy Press, "that many of Hollywood's most successful blockbusters have either been based on or inspired by stories written by such celebrated authors as Edgar Rice Burroughs, Raymond Chandler, Philip K. Dick, Dashiell Hammett and L. Ron Hubbard." Even the comic blockbusters of today find their roots in the pulp magazines of the early 20th century. Before Batman there was "The Shadow" and before Superman there was "Doc Savage."
"Hollywood has long known the treasure trove these Golden Age stories contained," Goodwin stated, "now we are seeing the reader becoming more and more cognizant of this fact."
Of note, the top sellers were Spy Killer, A Matter of Matter and Dead Men Kill, the only zombie story written by Hubbard, as well as the perennial bestselling novels Battlefield Earth and Fear.
While movies and television have now become America's top forms of entertainment, pulp fiction stories and radio dramas were the entertainment of the day in the first half of the 20th century, with over 30 million Americans awaiting the next issue of their favorite pulp magazines each week.
Stories from the Golden Age contain 153 stories written by Hubbard that are being published in 80 volumes, in a wide spectrum of genres, including adventure, western, mystery, detective, fantasy, science fiction and even some romance, using his own and 15 pen names.
For more information, go to www.galaxypress.com