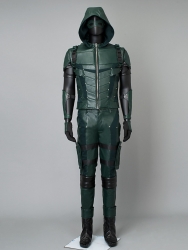 Guangzhou, China, September 16, 2015 --(
PR.com
)-- With Halloween just around the corner, everyone seeks just the right costume with a touch of exuberant fiction and as well as moral significance and what better character costume to don than the legendary Green Arrow. The monotony of Halloween costumes and cosplay has taken the fun out of the conventional Halloween dress up. Whether it is the precision of the costume to match the real one or the comfort of the material, finding just the right costume has become quite a challenge now.
Thanks to Procosplay.com, you need not look elsewhere. Hosting the latest cosplay costumes in time for Halloween, the most recent addition of the iconic Green Arrow costume is all set to make you stand out and be the savior this Halloween. The vigilante superhero, Oliver Queen aka
Green Arrow
, from the top rated TV series 'Arrow' needs no introduction as he has been quite popular recently. The show, featuring Stephen Amell as Green Arrow, shows the character as a wealthy industrialist, Oliver Queen, who eventually takes on as the crusader and leader of the cult army, Team Arrow, to fight against crimes in his hometown, Star City. Green Arrow uses archery and martial arts to fight his enemies, making action an undeniable forte of all his endeavors. With season 4's promo release having created just the necessary hype to make the character one of the leading ones this Halloween, procosplay.com is the answer to nearly every fan's prayers.
The complete Green Arrow cosplay costume, with the signature green top, pants, Quiver, Blinder, Gloves, Arm and leg guards and boot covers, is available in a comfortable pu leather stretchy material in customized sizes for all body types. Arrow enthusiasts can order either of the two variants of the amazing Green Arrow costume with full accessories at http://www.procosplay.com/new-green-arrow-season-four-oliver-queen-cosplay-costume-mp002906 or http://www.procosplay.com/green-arrow-oliver-queen-america-cosplay-costume at an affordable price of $199 only. Shipping details and size guides are also available at the links given above. With only a few days left until Halloween, order today so you can get the costume before its showtime!