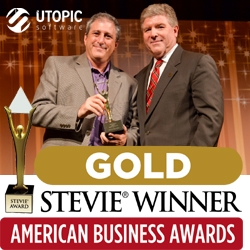 Tampa, FL, September 16, 2015 --(
PR.com
)-- Advancements made in the field of automated remediation (self-healing) for PCs and servers, provided the groundwork for Utopic Software to win the top prize, a Gold Stevie®, at the 13th Annual American Business Awards.
Utopic's Persystent Suite, a unique solution integrating self-healing, imaging, and secure disc erasure, was recognized in the New Product of the Year – Systems Management Solution category. Persystent Suite automates self healing for compromised, mis-configured or poorly performing assets. It achieves this in near real-time and without manual intervention with a single reboot of a device.
As part of the judging presentation, Utopic proved that a PC experiencing a catastrophic failure resulting from a malware breach, could be "self-healed" with a healthy, desired image in only 45 seconds.
"It's a very bold statement to declare we can not only eliminate the need to reimage machines, but in fact, restore and repair a corrupted or mis-configured machine in under a minute; the time it takes to reboot a device," said Scott Davis Utopic Software's Vice President, Marketing. "This award goes a long way in validating that Persystent Suite is able to do just that."
According to Utopic, Persystent Suite is unique in that it provides not only a flexible repair/recovery component, but it provides faster traditional imaging and DoD-recommended secure disc wipe as part of the overall package.
"Where Persystent truly succeeds is the ability to eliminate re-imaging in most cases," Davis added, "This removes the productivity-killing burden from help desks and allows them to address root causes. In fact, our studies show that Persystent can reduce break/fix issues by more than 70 percent."
Through Persystent Suite's proprietary automatic remediation (aka "self-healing"), a desired state is reapplied during the pre-boot process and the user is back up and running within seconds. Where most re-imaging processes brings a device back to Day Zero, devices with Persystent Suite don't lose their data, settings, profiles or applications. It supports various encryption solutions such as Bit-Locker.
According to the organizers, a record number of nominations were submitted this year with more than 3,300 from organizations of all sizes and from virtually every industry. The American Business Awards are considered the nation's preeminent business awards program.
All organizations operating in the U.S.A. are eligible to submit nominations – public and private, for-profit and non-profit, large and small. Nicknamed the Stevies for the Greek word for "crowned," the awards was presented to Utopic Software during a gala banquet on Friday, September 11 at the Julia Morgan Ballroom in San Francisco.
"We are grateful and humbled. The award is truly a team effort; from the visionaries who took a simple imaging solution and re-imagined it for a broader purpose; to the engineers who made the magic happen; to the partners and customers who believed in us," Davis said. "As a fast-growing technology company, it's gratifying to know we have made significant inroads into changing how change management is perceived, deployed and managed."
The Stevie® Awards were created to honor and generate public recognition of the achievements and positive contributions of organizations and business people worldwide.